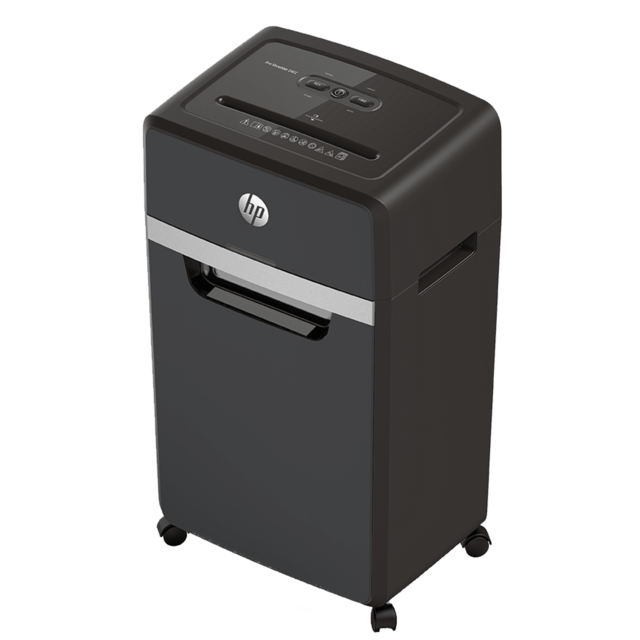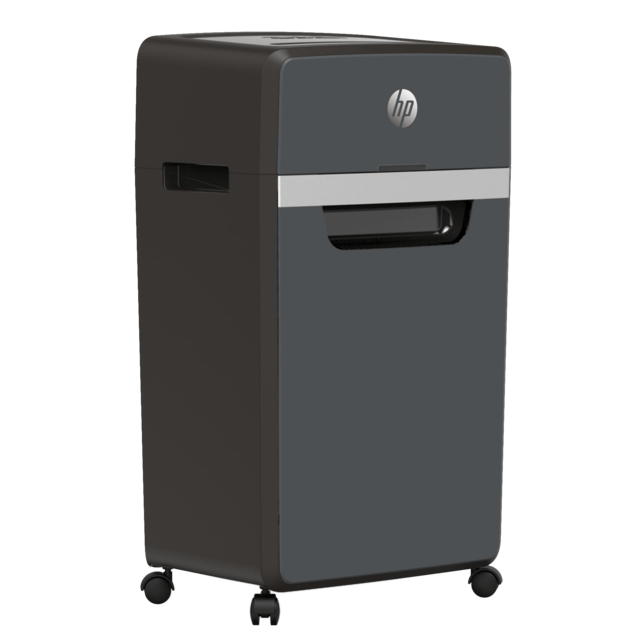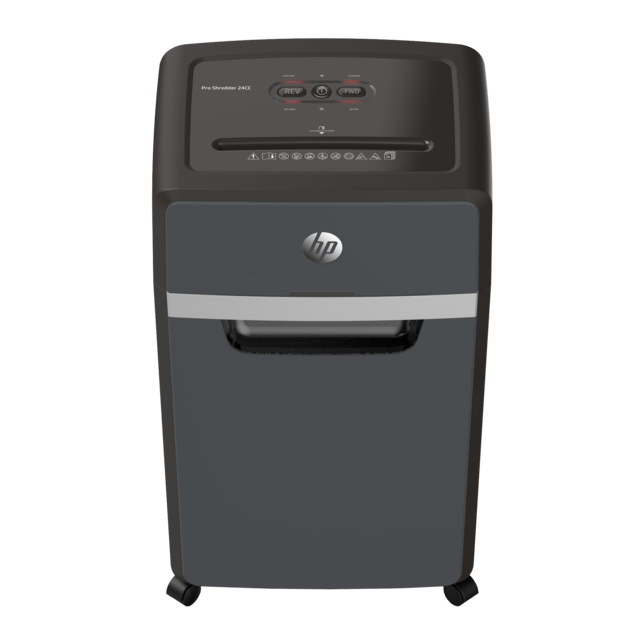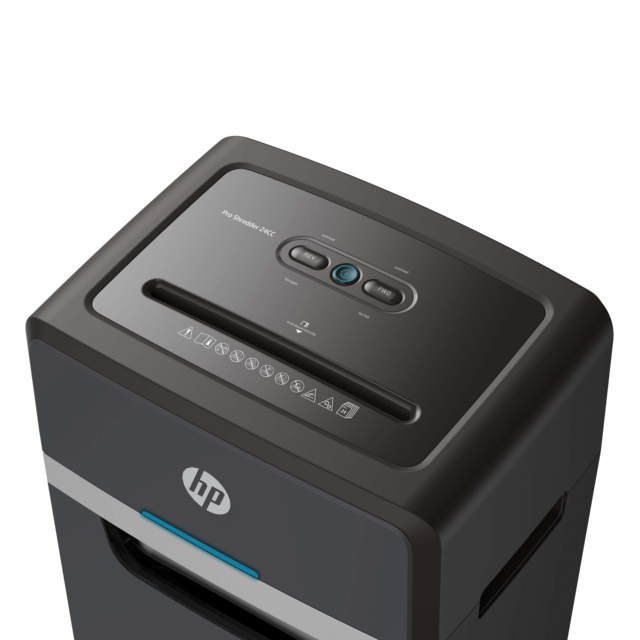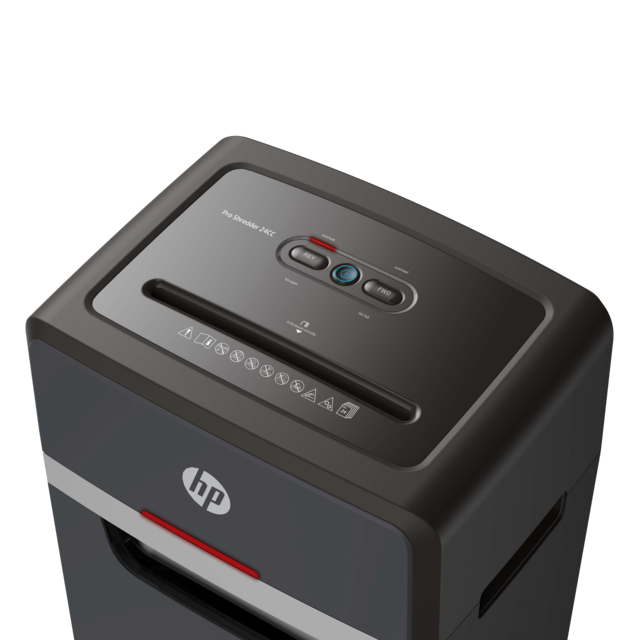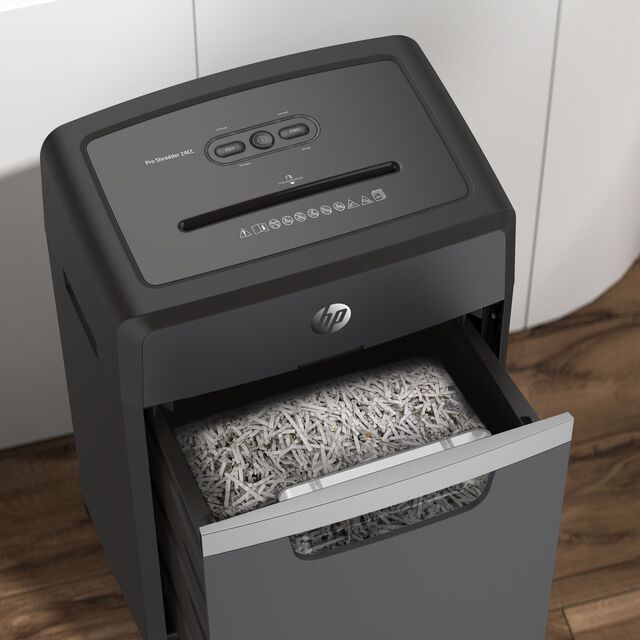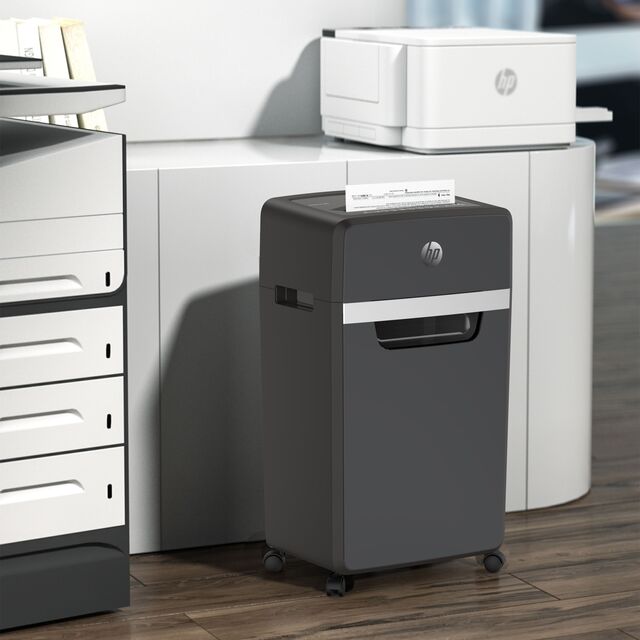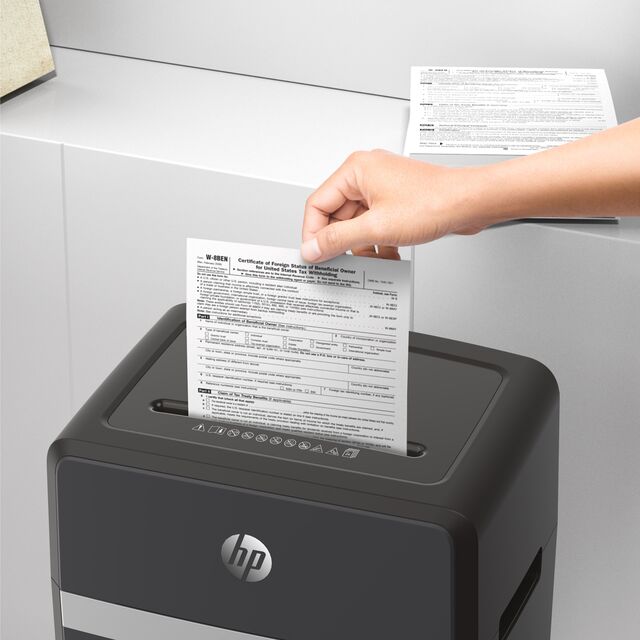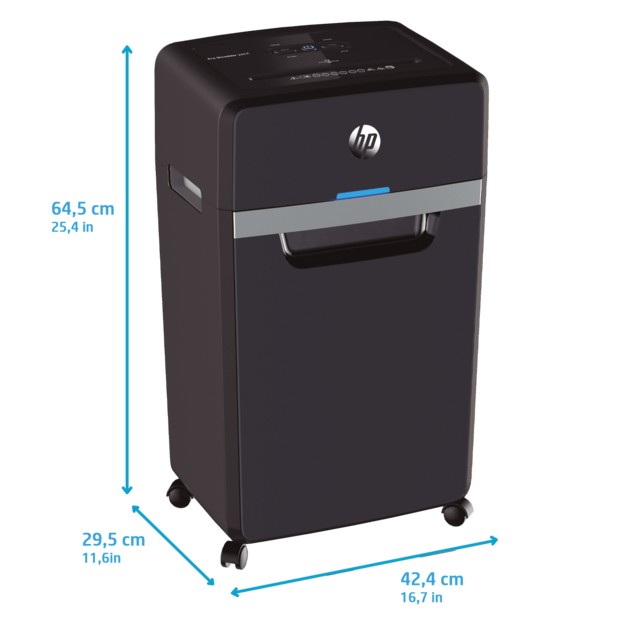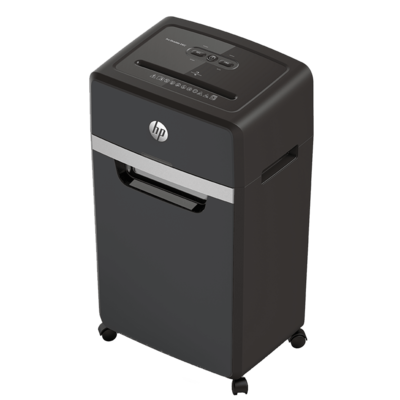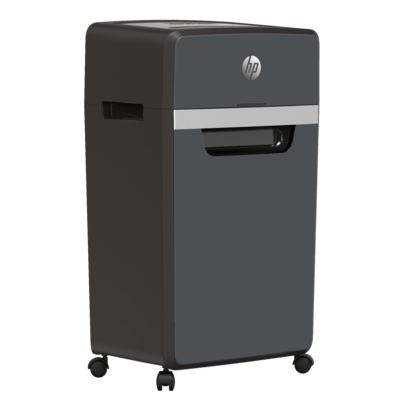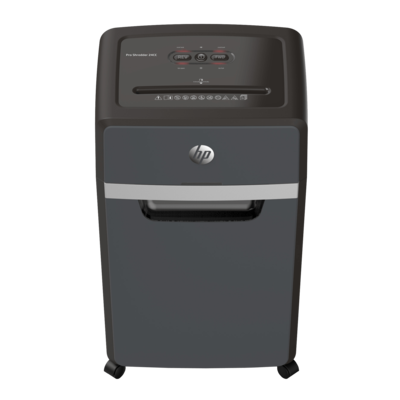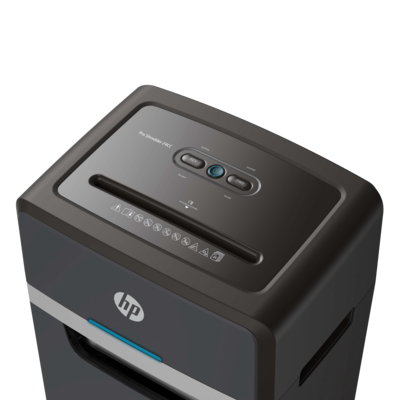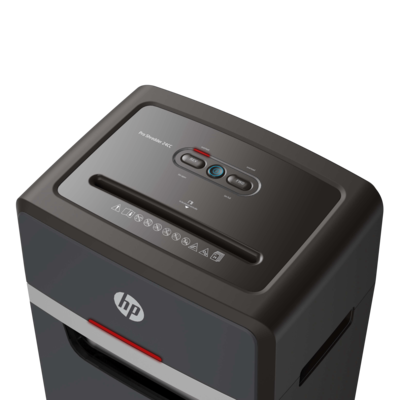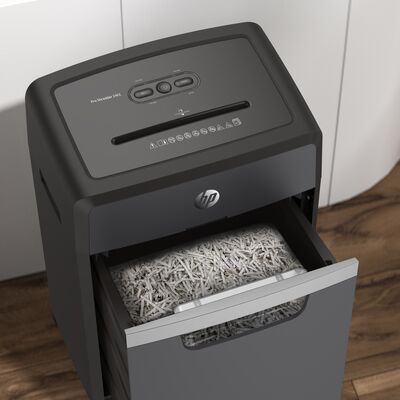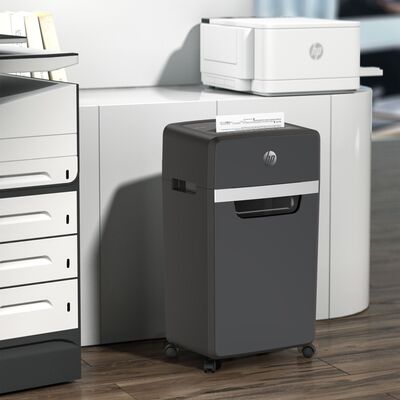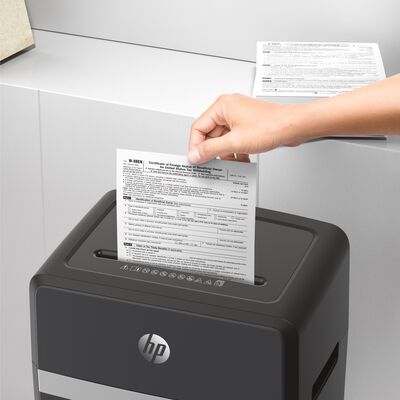 HP Pro Shredder 24CC
With a cutting capacity of 24 A4 sheets at a time, the HP Pro Shredder 24CC is the most powerful document shredder with the largest shredding capacity from this series. This professional shredder shreds your sensitive company data such as balance sheets or tax documents in cross cut to 4 mm x 35 mm small clippings and meets the high requirements for data protection compliant document destruction with security level P-4. After a particularly long operating time of 40 minutes, the professional shredder in black design requires a cool down period to avoid overheating. The comfortable document shredder on lockable coasters impresses with an exceptionally quiet operating noise of only 55 decibels and is ideally suited for use in open-plan offices.

Available in stores now.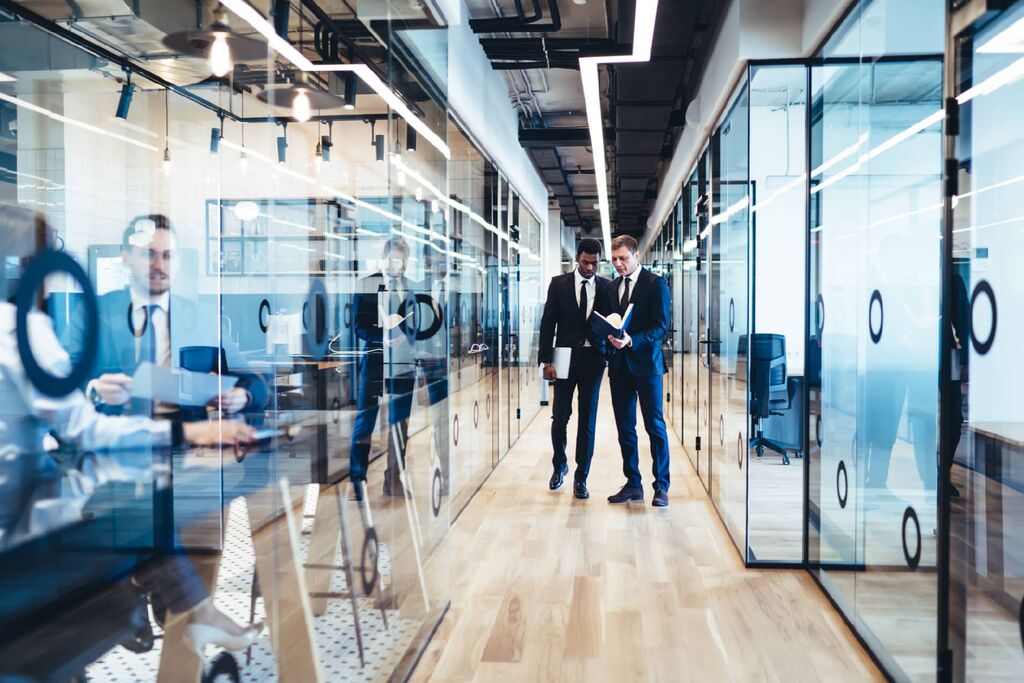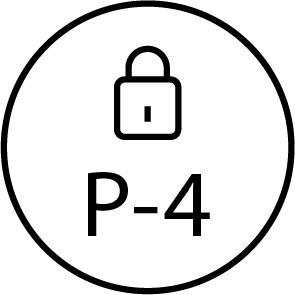 Security level P-4
Meets the requirements of the DSGVO for the destruction of sensitive data.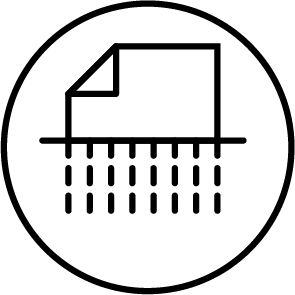 Cross cut
Documents are cut into small 4 mm x 35 mm clippings using a particle cutter.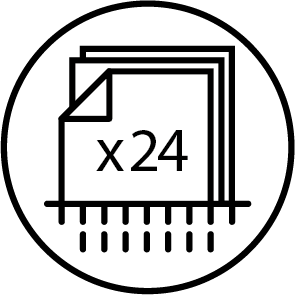 Cutting capacity
Maximum 24 DIN A4 sheets (80 g / m²) possible at the same time.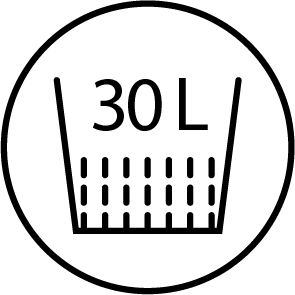 Collection container
With viewing window, can be pulled out and comprises a filling volume of 30 litres.
The HP Pro Shredder 24CC, like all of its HP Pro Series counterparts, is intuitive to use and features an overheat and overload indicator as well as an automatic start-stop feature that ensures the shredder stops when you stop feeding material.

The large waste bin has a capacity of 30 litres and can be pulled out for easy content removal. The high-quality shredder has an indicator for an open as well as full bin and alerts you as soon as the waste bin needs emptying. The auto-reverse feature prevents paper jams by stopping the shredding process and returning the paper if you accidentally feed more than 24 sheets at a time.
If the reliable document shredder is not used for 30 minutes, it automatically switches to sleep mode and the power consumption is reduced to less than 0.5 watts.

Credit cards, paper clips and staples do not need to be laboriously sorted before shredding whole stacks of documents.

The HP Pro Shredder 24CCshould be cleaned and maintained regularly to achieve a consistently good cutting result. To remove dust and paper residues from your shredder, a HP Shredder Oil Sheet is already included in delivery.
HP Pro Shredder 24CC
Cutting capacity: 24 sheets DIN A4 (80 g / m²)
Type of cut: Particle cut / Cross cut
Particle size: 4 mm x 35 mm
Cutting speed: 1.6 metres per minute
Material to be cut: paper, credit cards, paper clips and staples
Security level: P-4 / DIN 66399
Application area: Open plan office
Operating time: 40 minutes
Cooling time: 50 minutes
Sleep mode: after 30 minutes, power consumption < 0.5 Watt
Waste bin: 30 litre pull-out with viewing window
Feed width: 220 mm
Operating noise: 55 dB
Castors: 4, 2 of them lockable
Colour: black
Overheat indicator: yes
Overload indicator: yes
Anti-paper jam technology: through automatic return function
Full and open bin indicator: yes
Voltage: 220 - 240 VAC
Frequency: 50 Hz
Power: 680 W / 3.0 A
Motor type: Induction
Item number: 2815
EAN: 4030152028153
Device dimensions: 424.3 mm x 295 mm x 644.5 mm (width x depth x height)
Device weight: 20 kg
This might also interest you
Care products for your HP Pro Shredder