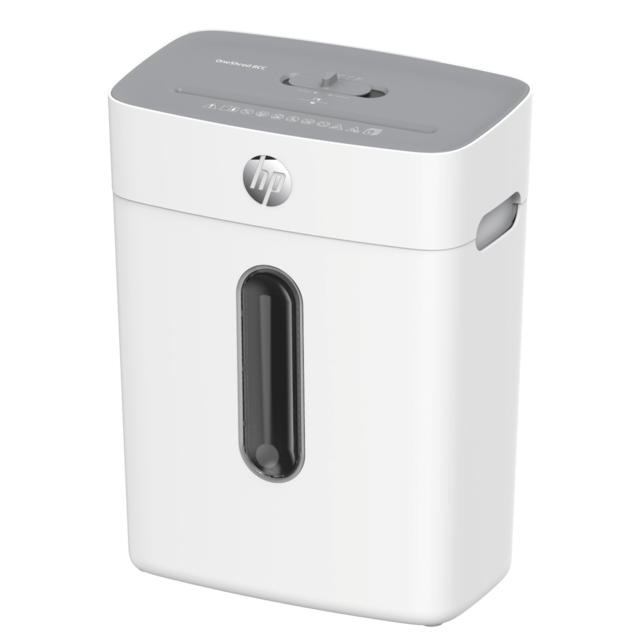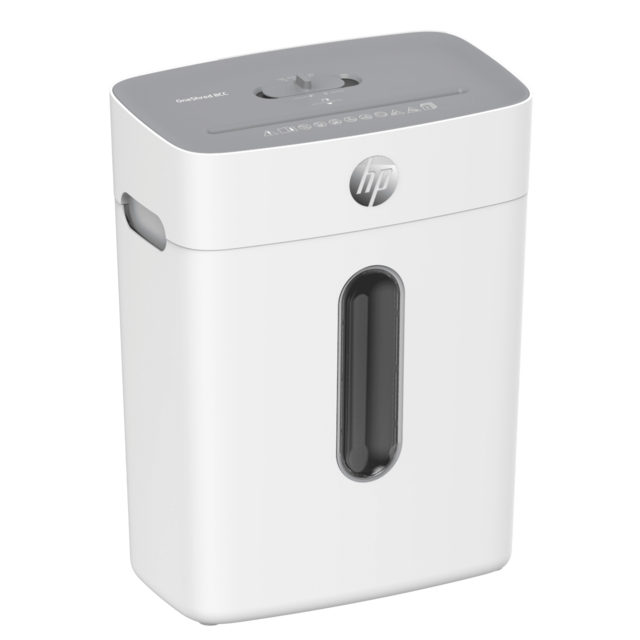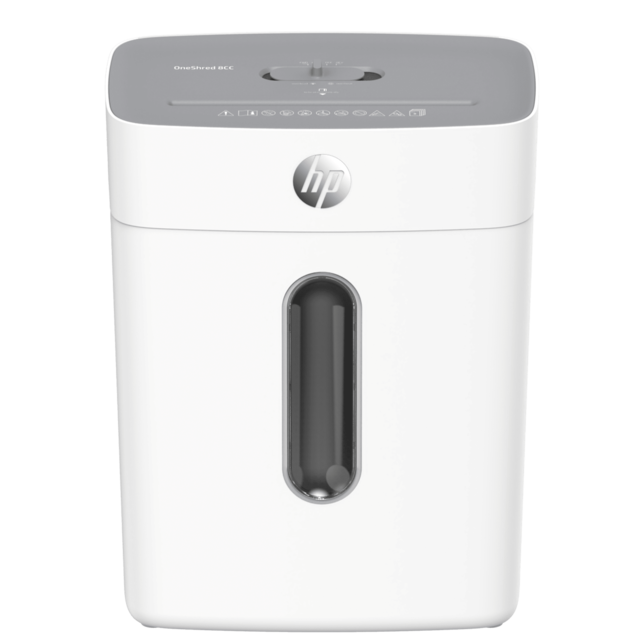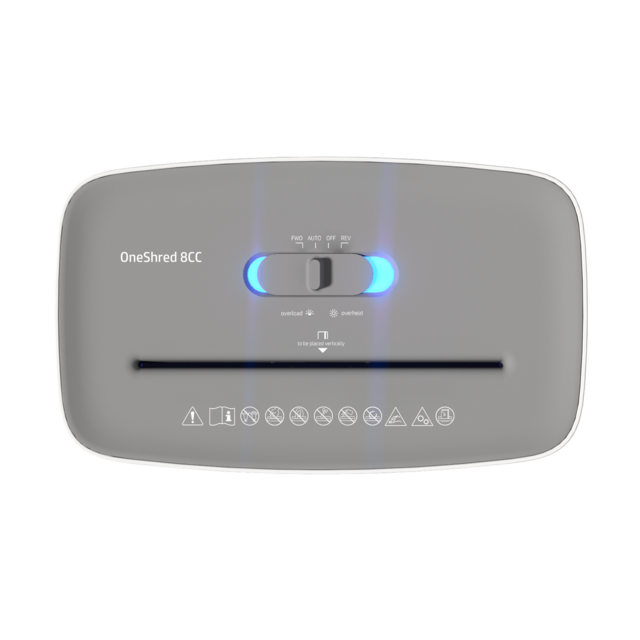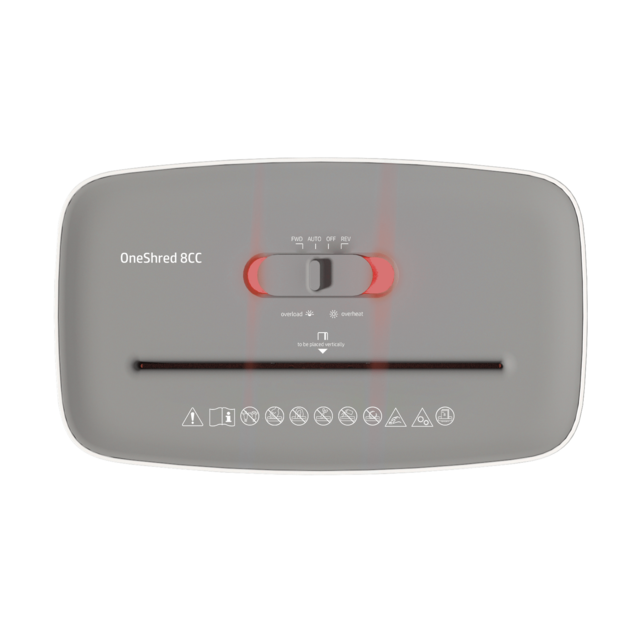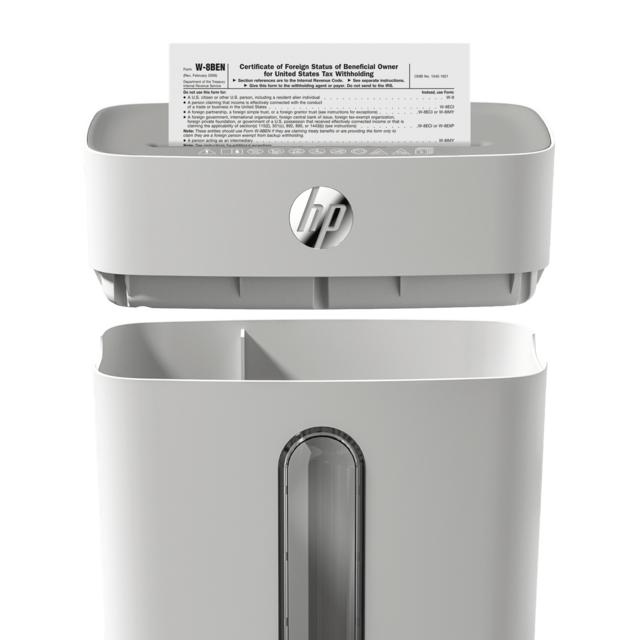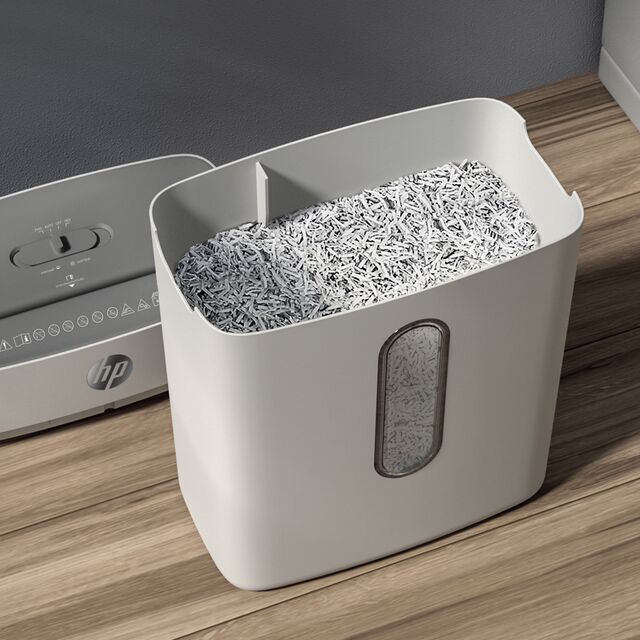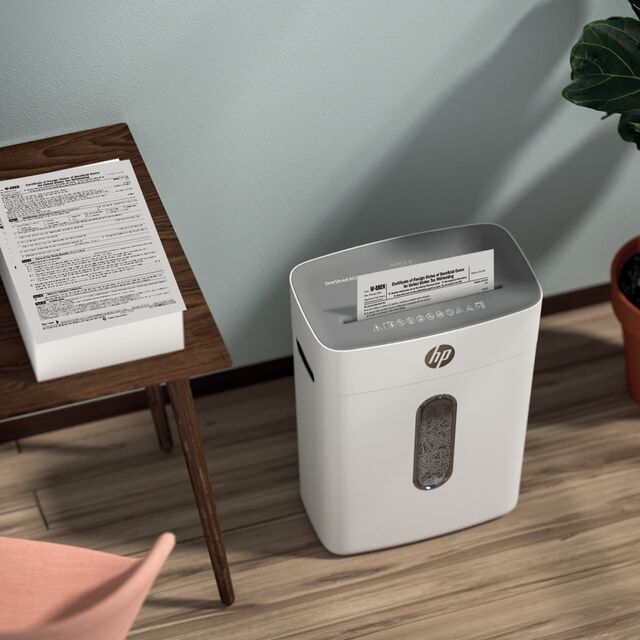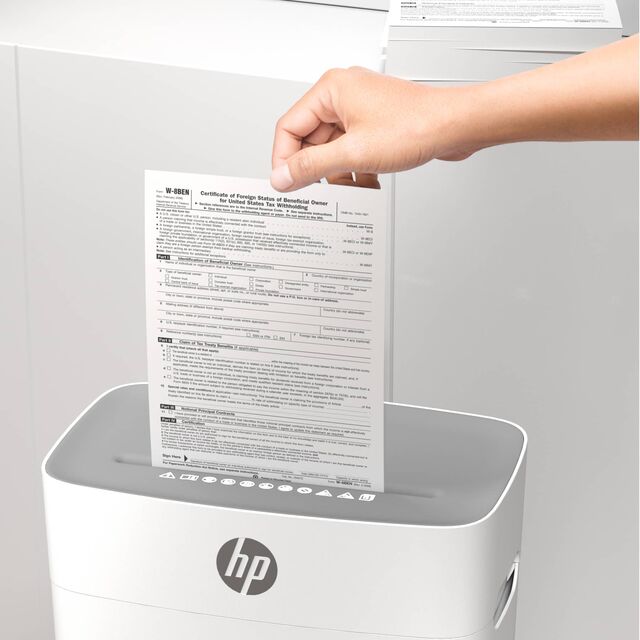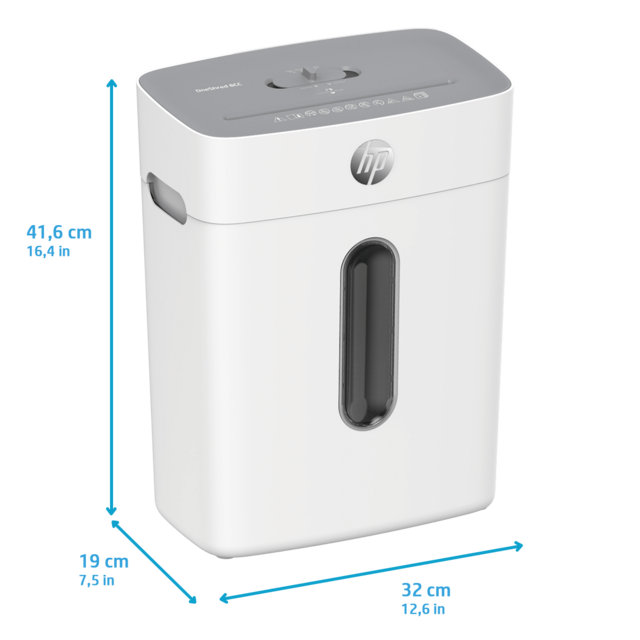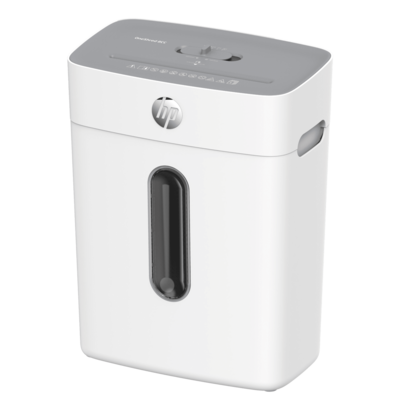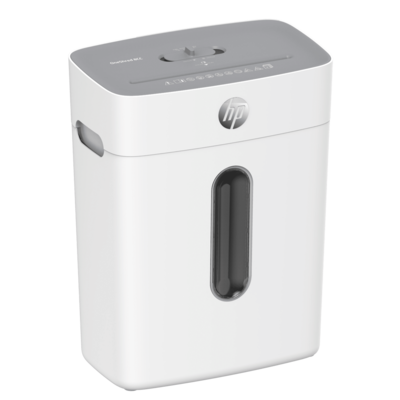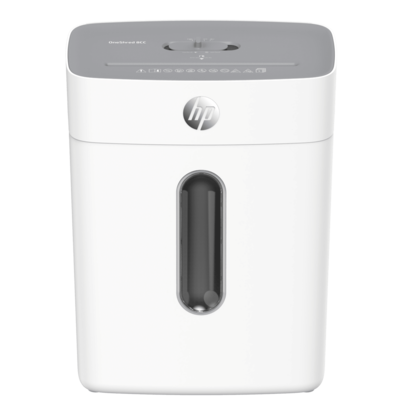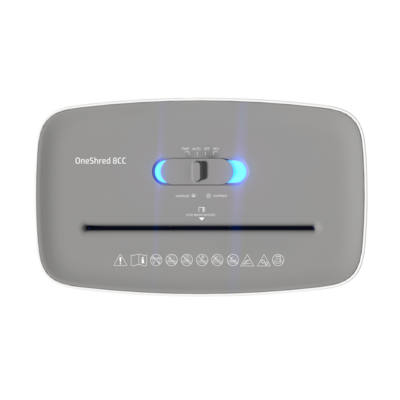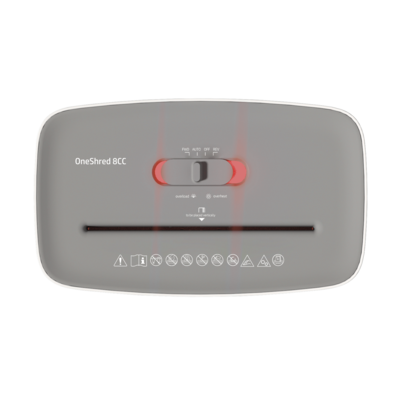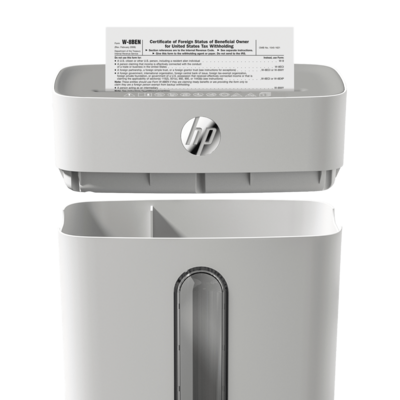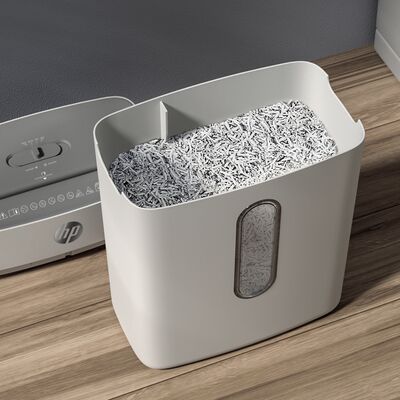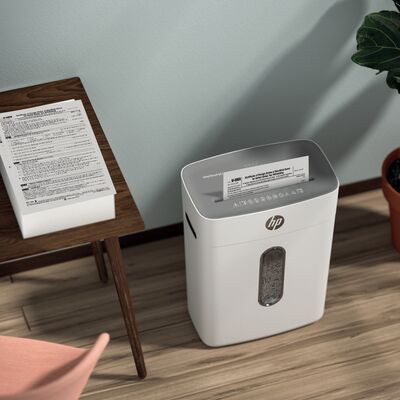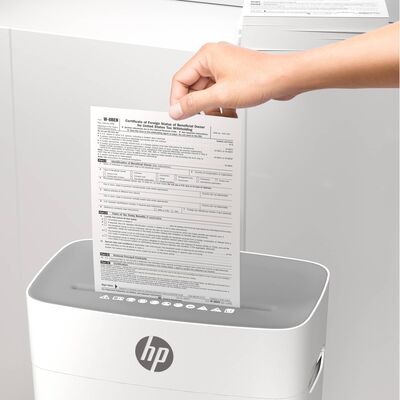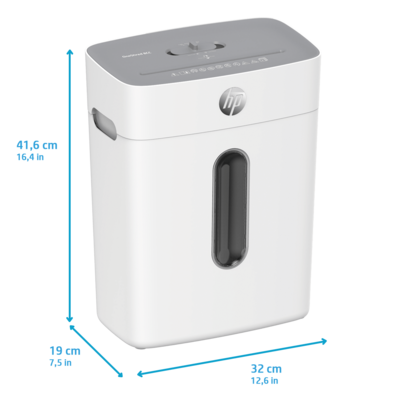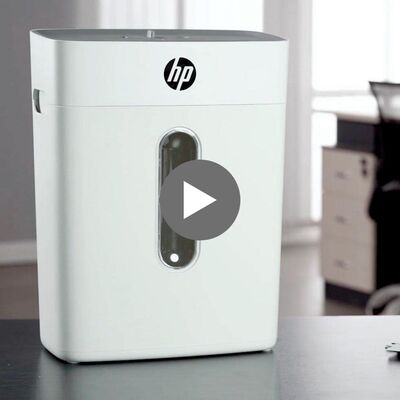 HP OneShred 8CC
The handy document shredder HP OneShred 8CC in modern design is a quintessential feature of any household and fits next to every desk. Thanks to the high security level P-4, the DSGVO-compliant shredding of sensitive data such as salary slips and tax returns is guaranteed. Up to eight DIN A4 sheets can be shredded at the same time in particle cut via the intuitive operation. Even paper clips, staples and credit cards are no problem for this reliable shredder. The shredder has an automatic reverse function in the event of a paper jam, as well as an overheating and overload indicator. Thanks to the viewing window, you are always alerted when the box needs to be emptied, even without a technical fill level indicator for the waste bin.

Available in stores now.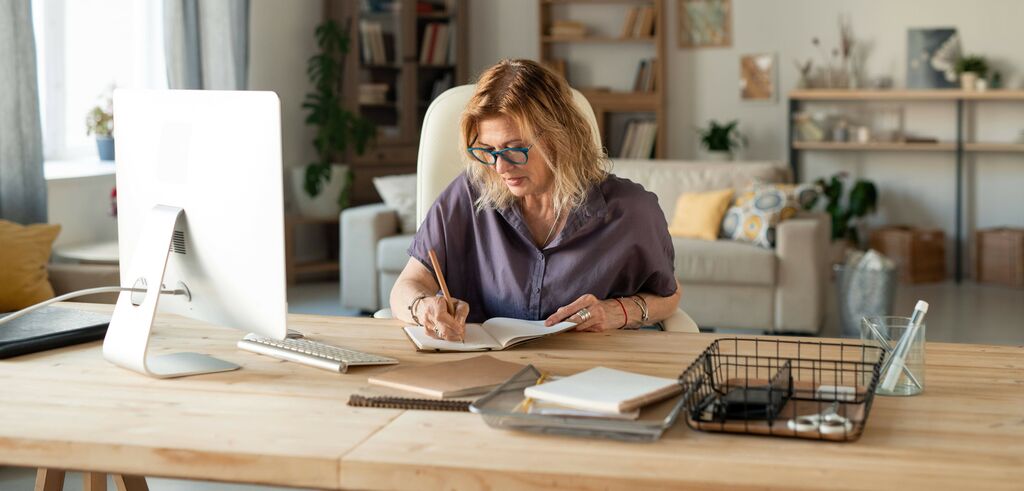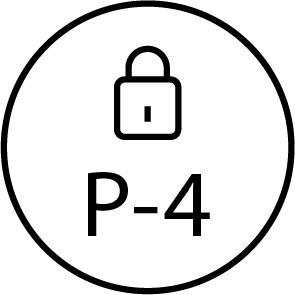 Security level P-4
Meets the requirements of the DSGVO for the destruction of sensitive data.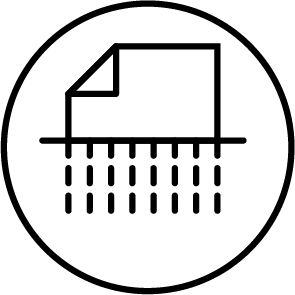 Cross cut
Documents are cut into 5 mm x 18 mm clippings using the particle cut method.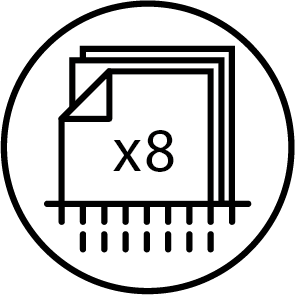 Cutting capacity
Maximum 8 DIN A4 sheets (80 g / m²) possible at the same time.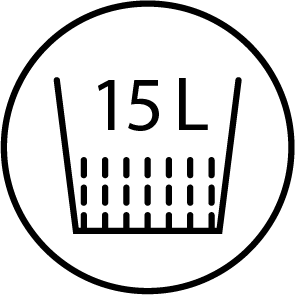 Litter bin
With viewing window, removable shredder head and comprises a filling volume of 15 litres.
The HP OneShred 8CC cross-cuts your sensitive documents into 5 mm x 18 mm clippings. Thus, the modern paper shredder ensures document destruction according to security level P-4 and complies with DIN 66399. After an operating time of four minutes, this reliable helper needs a cool down period before it can shred further documents. The small HP OneShred 8CC weighs in at a slim 4.3 kg and its compact dimensions make it easy to move, even without castors. Once the reliable document shredder has taken its place in your home, you won't want to miss it with its speedy cutting speed of 1.8 metres per minute.
The waste bin has a capacity of 15 litres and is very easy to empty. To do this, remove the shredder head from the container, empty the waste and replace the cutter attachment.

This handy HP OneShred 8CC comes equipped with a waste container for the cuttings as well as the operating instructions and a HP Shredder Oil Sheet for the first cleaning of the cutting unit.
HP OneShred 8CC
Cutting capacity: 8 sheets DIN A4 (80 g / m²)
Type of cut: Particle cut / Cross cut
Particle size: 5 mm x 18 mm
Cutting speed: 1.8 metres per minute
Material to be cut: paper, credit cards, paper clips and staples
Security level: P-4 / DIN 66399
Area of application: Private household / Home office
Operating time: 4 minutes
Cooling time: 50 minutes
Waste bin: 15 litres with removable shredder head and viewing window
Feed width: 220 mm
Operating noise: 68 dB
Rollers: none
Colour: white
Overheat indicator: yes
Overload indicator: yes
Anti-paper jam technology: through automatic return function
Full and open bin indicator: no
Voltage: 220 - 240 VAC
Frequency: 50 / 60 Hz
Power: 200 W / 1.2 A
Motor type: AC
Item number: 2801 / 2809 for the UK version
EAN: 4030152028016 / 4030152028092 for the UK version
Device dimensions: 320 mm x 190 mm x 416 mm (width x depth x height)
Device weight: 4.3 kg
This might also interest you
Care products for your HP OneShred