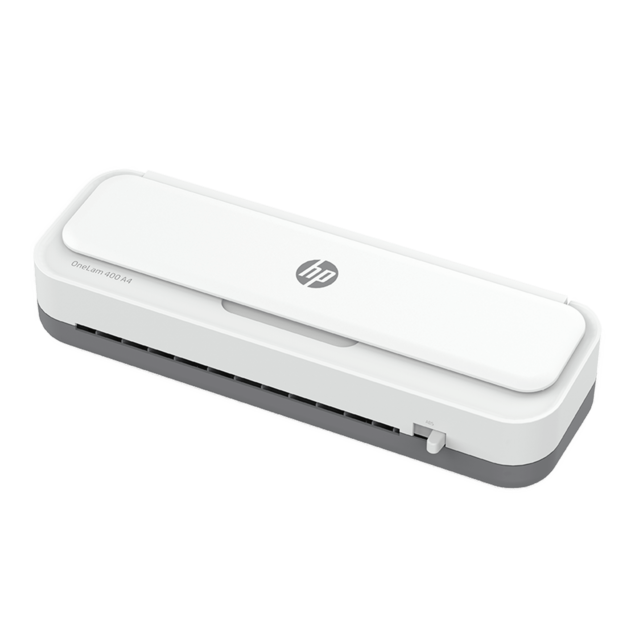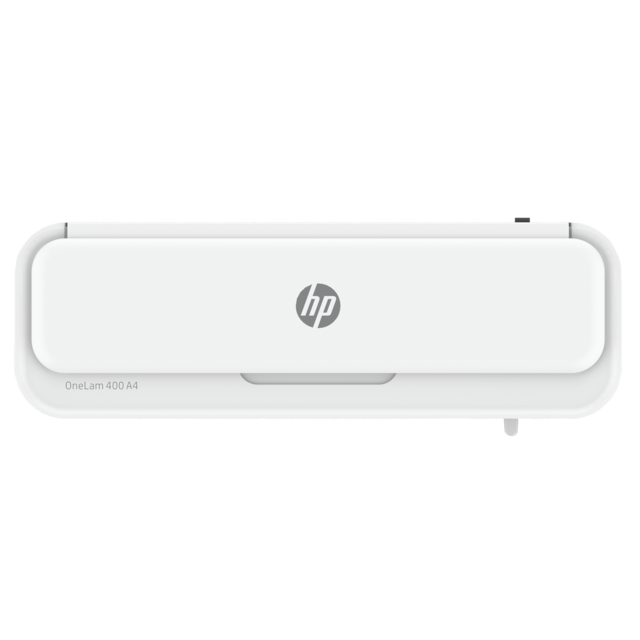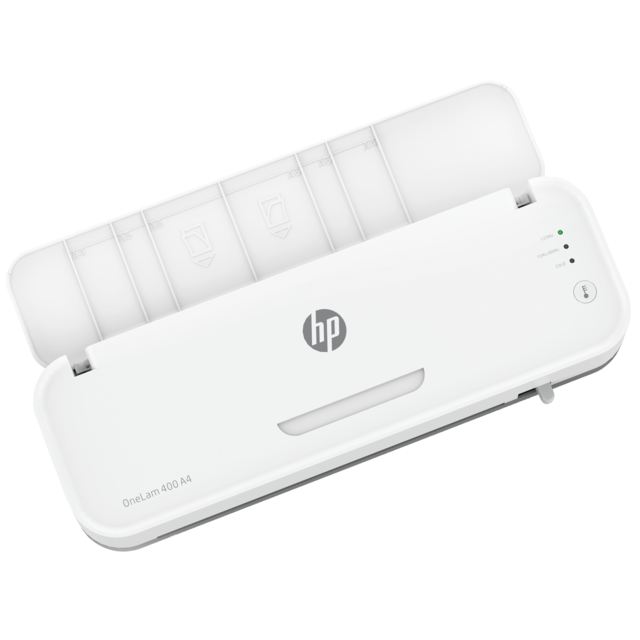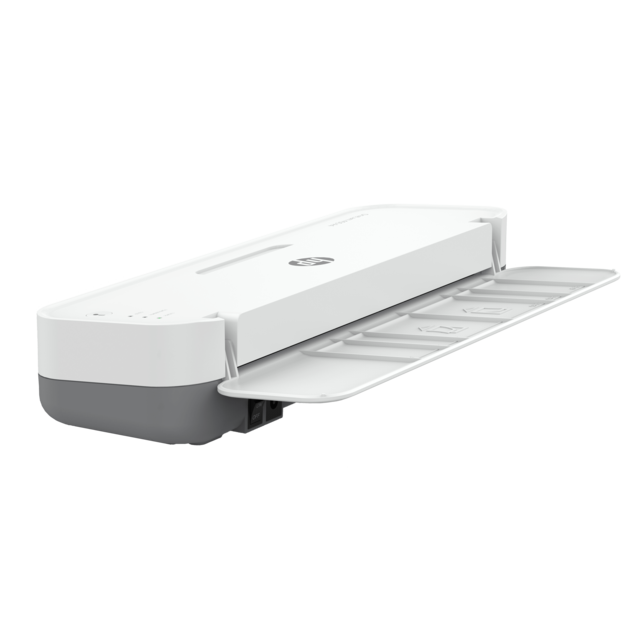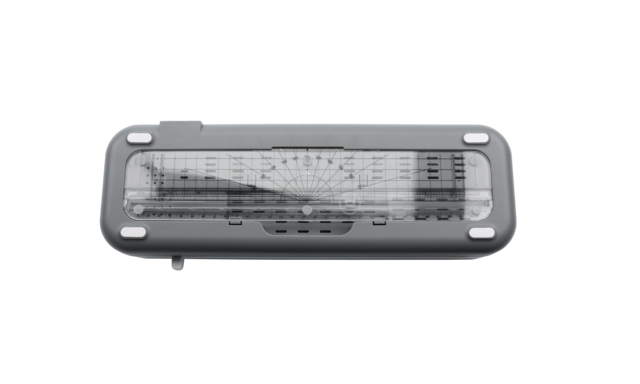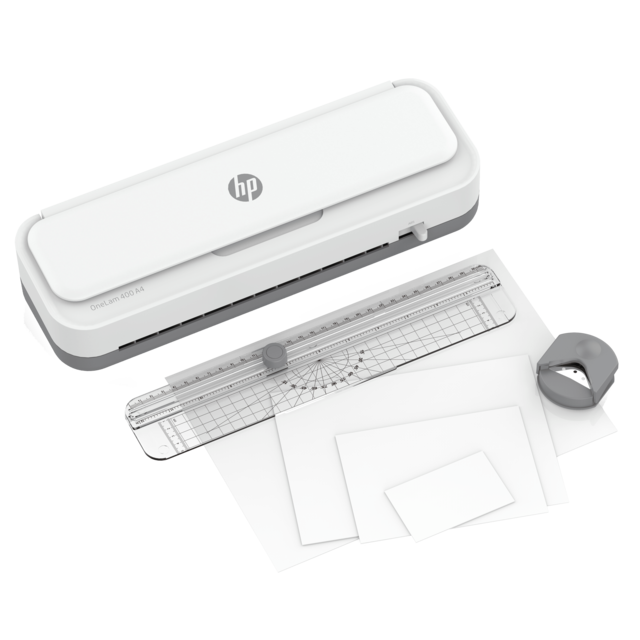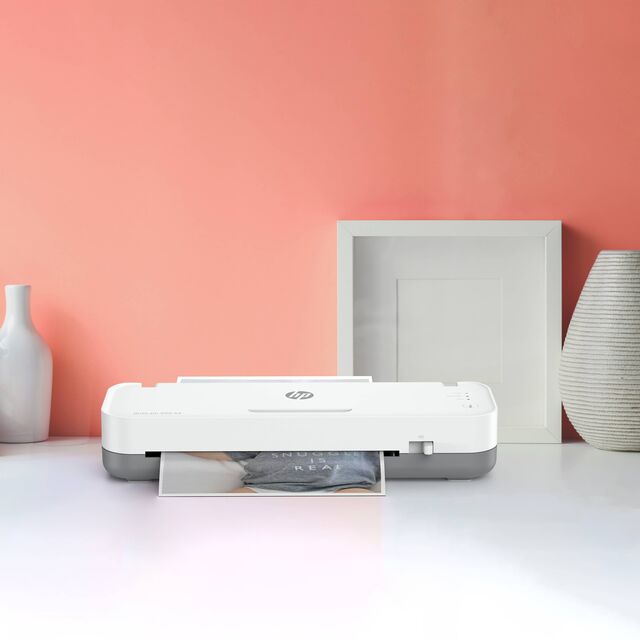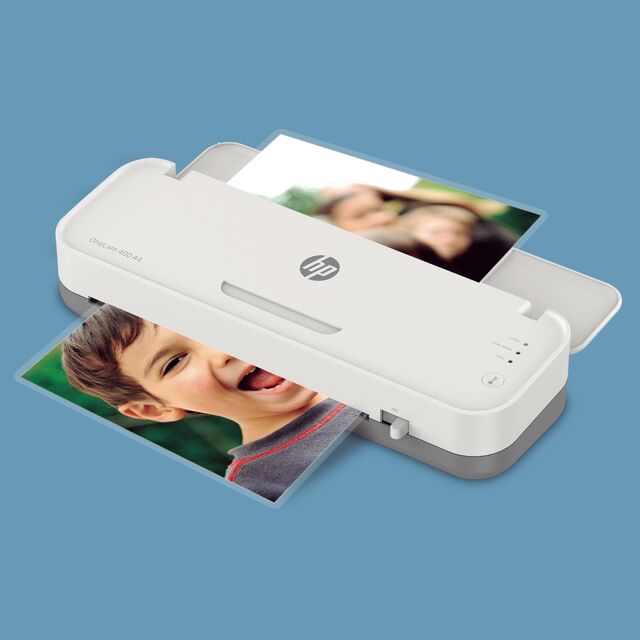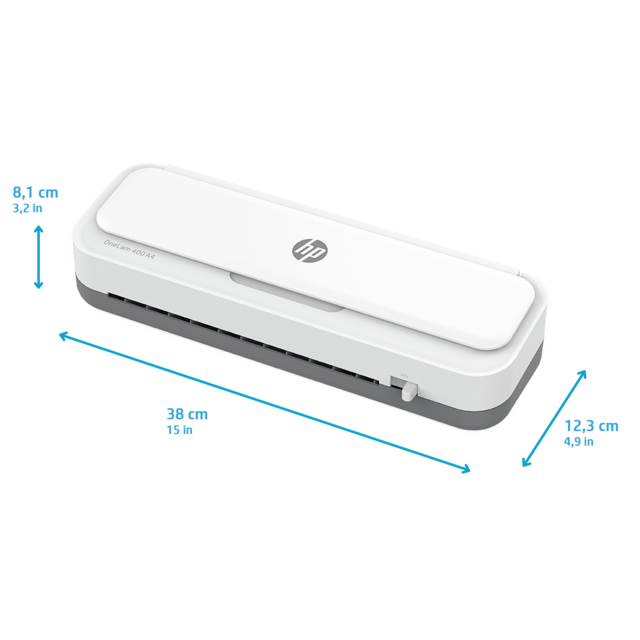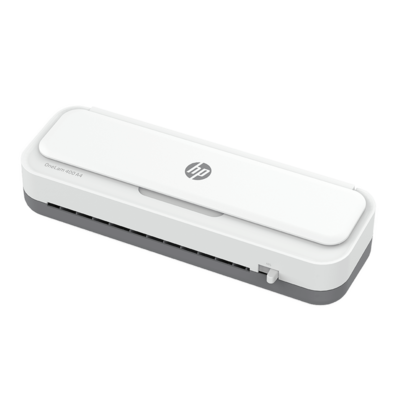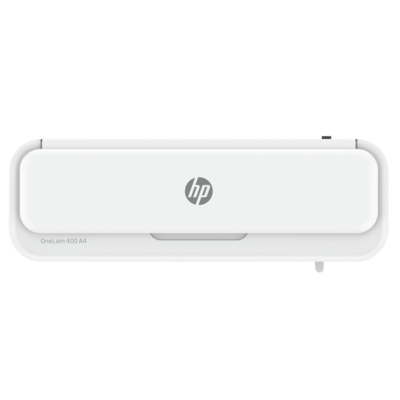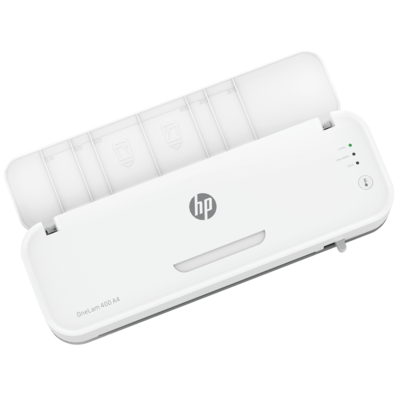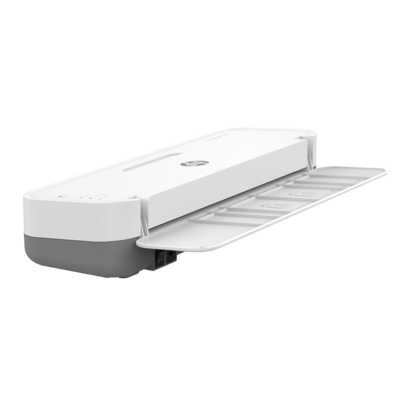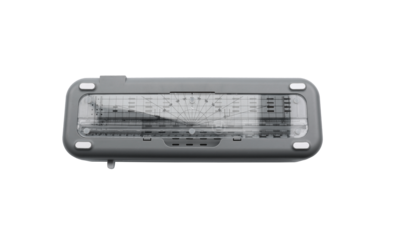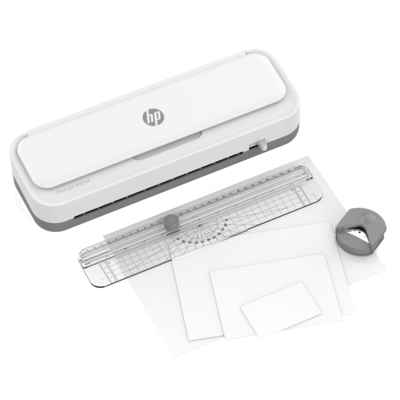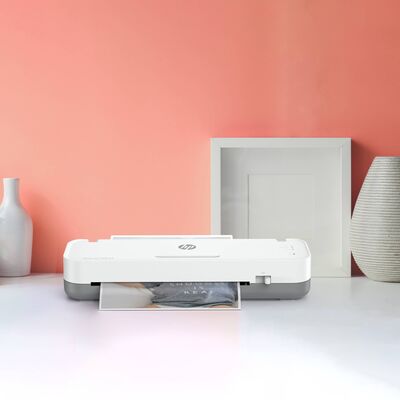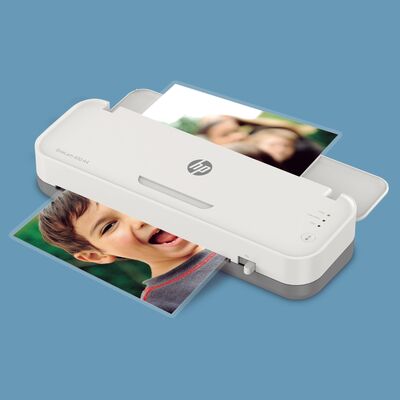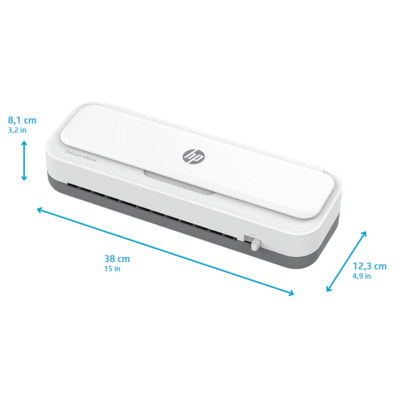 HP OneLam 400 A4
The HP OneLam 400 A4 is a compact laminator for versatile use in the hobby sector and home office and fits neatly on any desk. This modern laminator is suitable for both hot and cold lamination and seals your documents from business cards up to A4 format. An intuitive function button is used to set the required temperature based on the film thickness and this modern assistant is ready for use in 2-4 minutes. A cutting ruler, corner scraper and a 15-piece starter set consisting of three A4, four A5, four A6 and four business card sheets is supplied so that you can begin your laminating pleasure right away. The cutting ruler can be stored in a handy compartment underneath the device so that you always have the accessories at hand.

Available in stores now.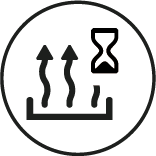 Warm-up time
Heats up in 2-4 minutes and ready to use for 80 microns.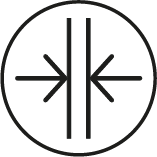 Film thickness
Applicable from 75/80 to 125 microns.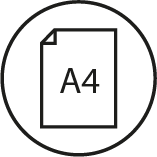 Format
Suitable for everything from business cards to DIN A4 documents.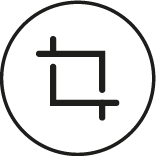 Accessories
Includes cutting ruler,
corner scraper and foil set.
With the reliable HP OneLam 400 A4 not only can you laminate your recipes, photos or children's drawings, but also playing cards or bicycle maps, as long as they are no thicker than 0.5 mm including the laminating foil.

The laminator in white design works at a speed of 400 millimetres per minute and therefore seals a DIN A4 document in a maximum of 45 seconds. The fold-out lid not only serves as a practical insertion aid but also makes the laminator a particularly space-saving companion.

The practical backloader is suitable for laminating films with a thickness of 75/80 microns up to 125 microns.
In addition to the main on and off switch and the function button, the laminator also has a lever for roller release: If you have inserted the film into the laminator at an angle, this can lead to a film jam. After unlocking, the laminating foil can be carefully released on the input side and the foil jam is rectified.

Have you accidentally forgotten to switch the laminator off? No problem, the HP OneLam 400 A4 automatically switches to standby mode after 30 minutes and stops the heating process.
HP OneLam 400 A4
Range of application: private households / hobby requirements, office workstations
Laminating formats: from business cards to DIN A4 format
Warm-up time: 2 - 4 minutes for 80 microns
Film thickness: 75/80 up to 125 microns or 0.5 mm thickness
Application: hot and cold lamination
Laminating speed: 400 mm per minute
Backloader: fold-out lid as insertion aid on the rear side
Temperature: 120 - 150 degrees celsius
Heating system: 2 rollers are heated from the inside
Input width: 230 mm
Colour: white
Cutting ruler
Corner scraper
15-piece starter set (3 x DIN A4, 4 x DIN A5, 4 x DIN A6, 4 x business cards)
Function Button: On/off, 75/80 microns, 125 microns, cold
Temperature controlled: each film thickness has its own temperature
Automatic standby mode: after 30 minutes
ABS function: roller release lever
Voltage: 220 - 240 V
Frequency: 50 / 60 Hz
Power: 400 W / 1.74 A
Motor type: AC
Item number: 3160
EAN: 4030152031603
Device dimensions: 380 mm x 123 mm x 81 mm (width x depth x height)
Device weight: 1.35 kg
This might also interest you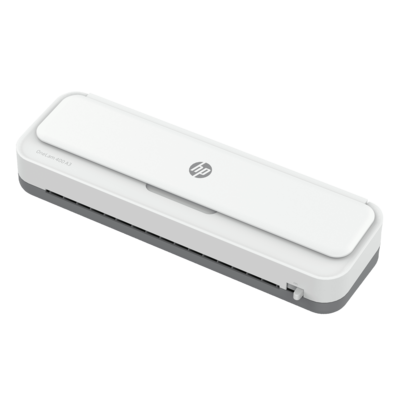 HP OneLam 400 A3
Warm-up time: 2 - 4 minutes, speed: 400 mm per minute, film thickness: 75/80 - 125 micron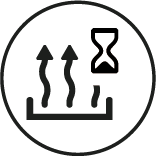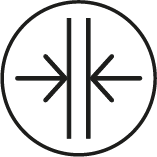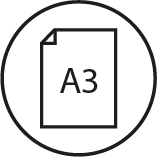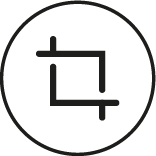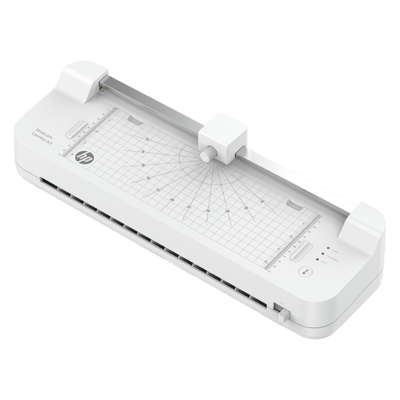 HP OneLam Combo A3
Warm-up time: 2 - 4 minutes, speed: 400 mm per minute, film thickness: 75/80 - 125 micron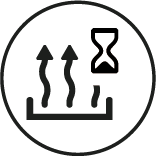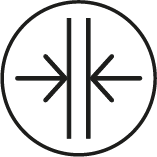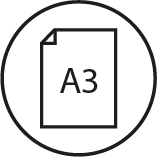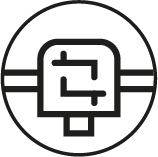 Still looking for suitable laminating foils?