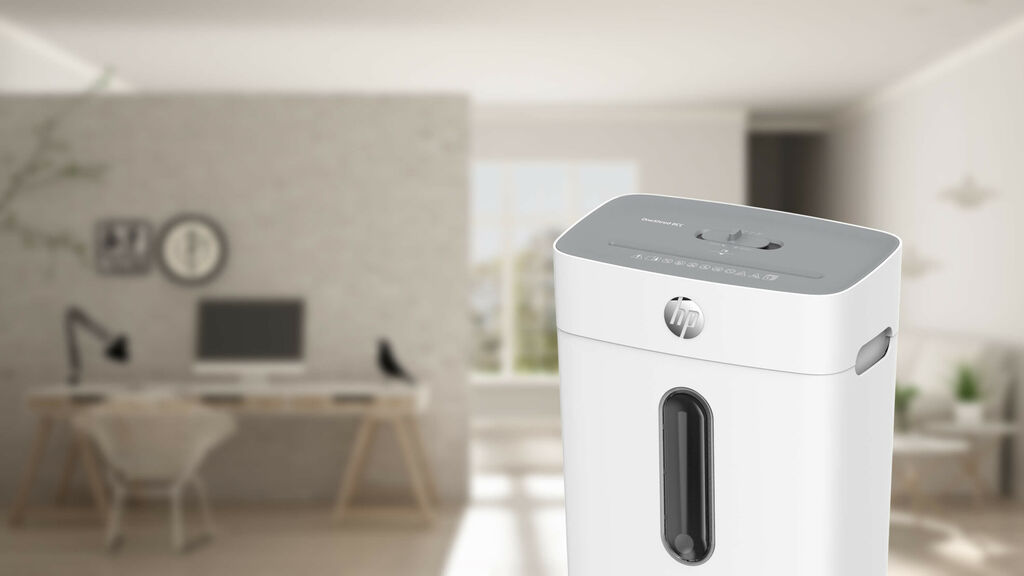 HP OneShred
Modern shredders in an attractive design
The HP OneShred Series
The modern shredders for everyday requirements ensure simple and secure document destruction
The compact paper shredders from the HP OneShred series appear in white design and should not be missing next to any desk. Do you have confidential documents to shred? Thanks to the high security levels P-4 or P-5, the reliable document shredders shred your sensitive, personal documents and credit cards in accordance with the Basic Data Protection Regulation in particle cut.
The tedious removal of paper clips and staples before the shredding process is no longer necessary, as these do not pose a challenge for these devices.
Depending on the model, the shredders are equipped with four rollers, two of which are lockable, and can shred up to 24 A4 sheets at a time. Have you accidentally inserted too much paper at once? With the automatic return function, the devices stop the process and feed the paper back again.
Units with a container volume of 25 and 30 litres automatically switch to sleep mode after 30 minutes, reducing power consumption to less than 0.5 watts.
For simple and safe shredding, the modern shredders have intuitive operation, an automatic start-stop function and an overheating and overload indicator. Models without a technical fill level indicator impress with a large viewing window on the collection box that indicates when the box needs to be emptied. Most of the HP OneShred shredders have a pull-out waste basket with a capacity of up to 30 litres.
Do you need a powerful shredder for professional use in a larger office environment? Then the HP Pro Shredder is the right choice.
Why an HP OneShred?
Shred up to 24 A4 pages per model simultaneously
Destruction of sensitive data in accordance with the DSGVO
Simple and uncomplicated shredding
Modern white finish in top design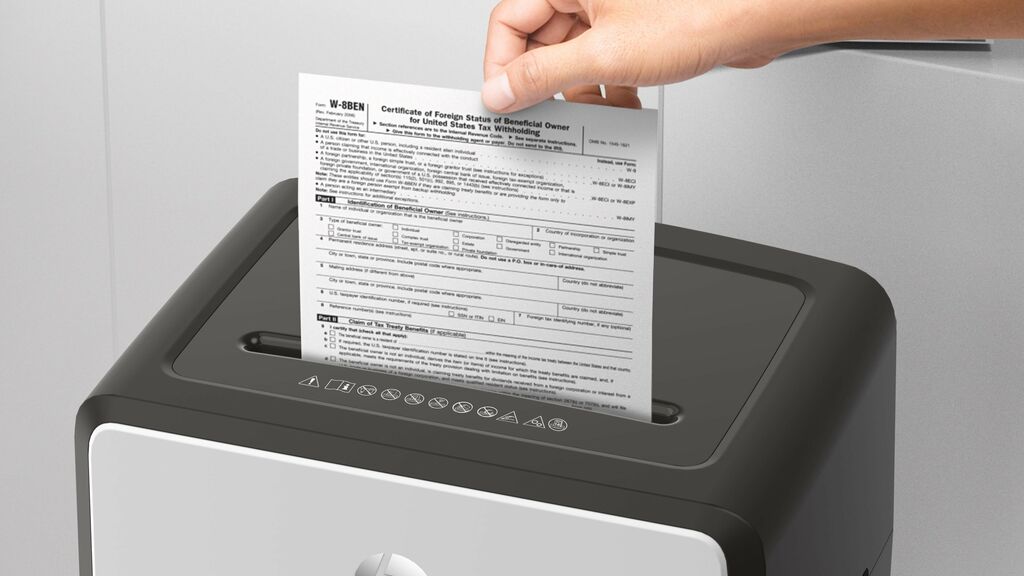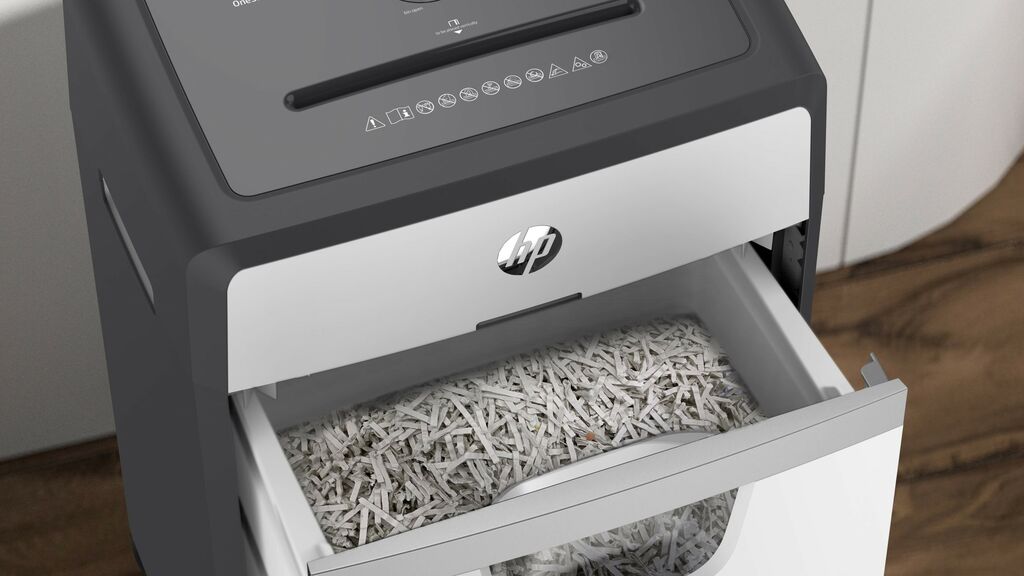 The security levels P-4 and P-5
Destruction of sensitive data must be guaranteed in accordance with the General Data Protection Regulation. The shredders with security level P-4, shred your documents in the Cross Cut (CC) into 4 mm x 35 mm snippets and are suitable for the DSGVO-compliant disposal of payrolls and tax documents. Shredders with security level P-5 are required for the desctruction of patient files or process files. These shred your documents in the Micro Cut (MC) into 2 mm x 15 mm small particles.
Which shredder suits you?
To ensure that you choose a shredder that is tailored to your needs, you should ask yourself the following questions: How often do you shred documents? How many sheets do you wish to shred at a time? How many people will have access to the paper shredder? For example, if you use the device alone in your home office, a model with a small collection bin and low cutting capacity is sufficient. However, if you regularly destroy larger quantities of documents, you should look for a high shredding capacity and a longer operating time.
Your advantages in brief
The HP OneShred delivers what it promises: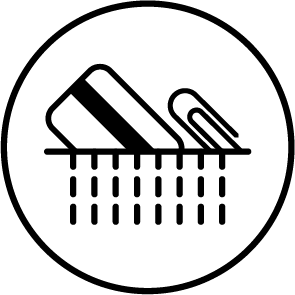 Cuttings
Paper, credit cards, paper clips and staples.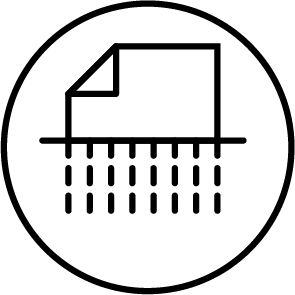 Cut type
Cross Cut (CC) or Micro Cut (MC) document shredding selectable.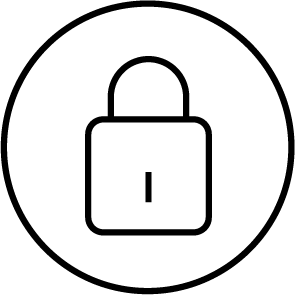 High security level
Depending on the type of cut, the shredders have a security level of P-4 or P-5.

Return function
Automatic reverse if too much paper is fed at the same time.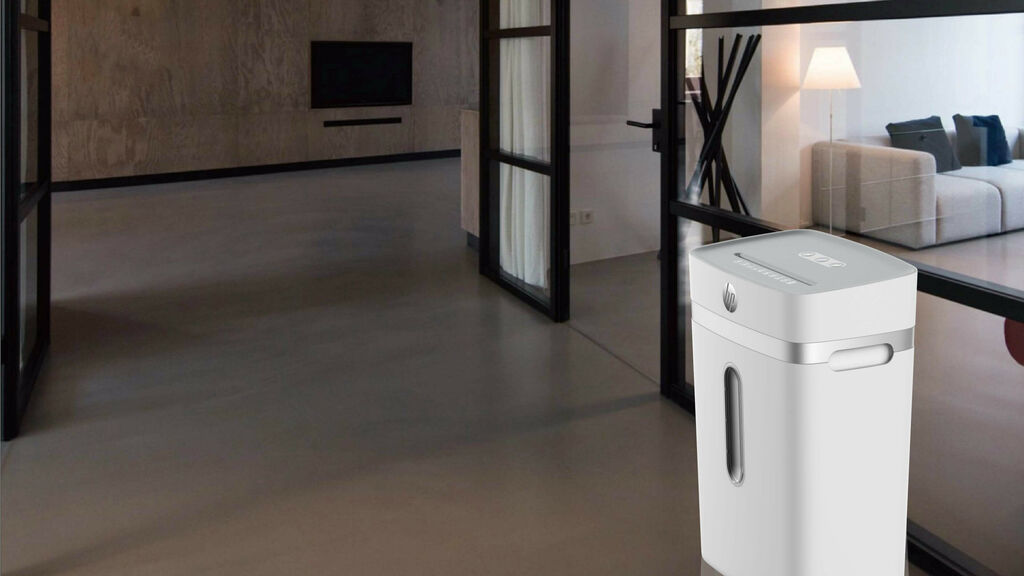 What are you waiting for?
Learn more about the new generation of document shredders!