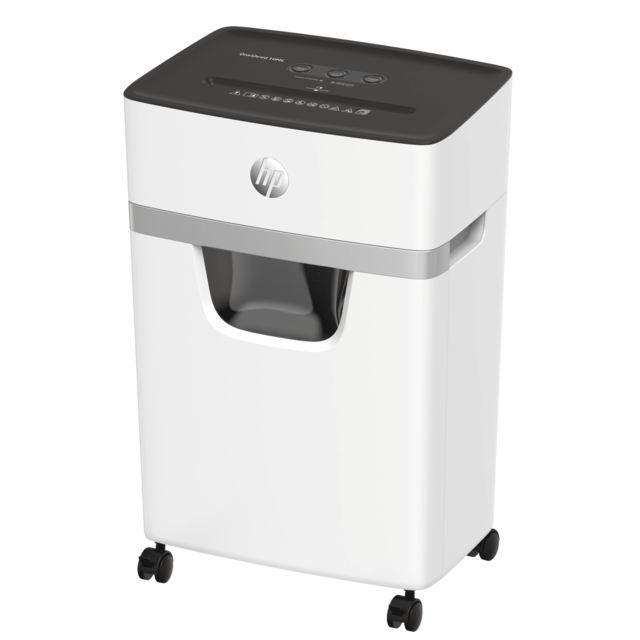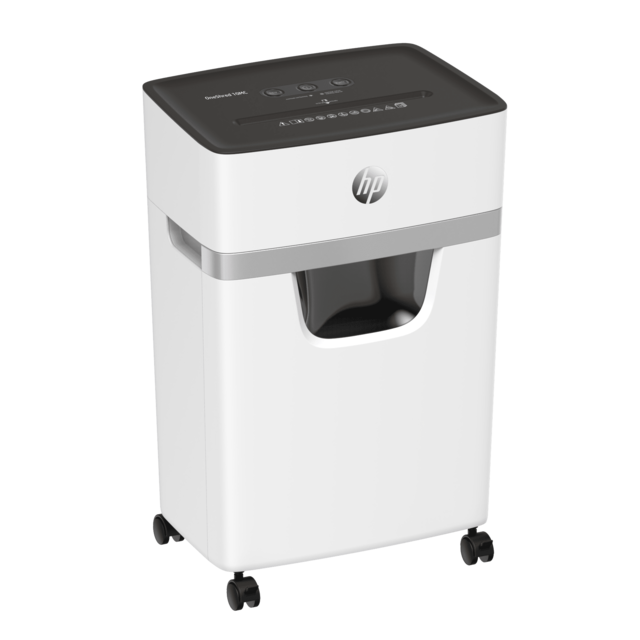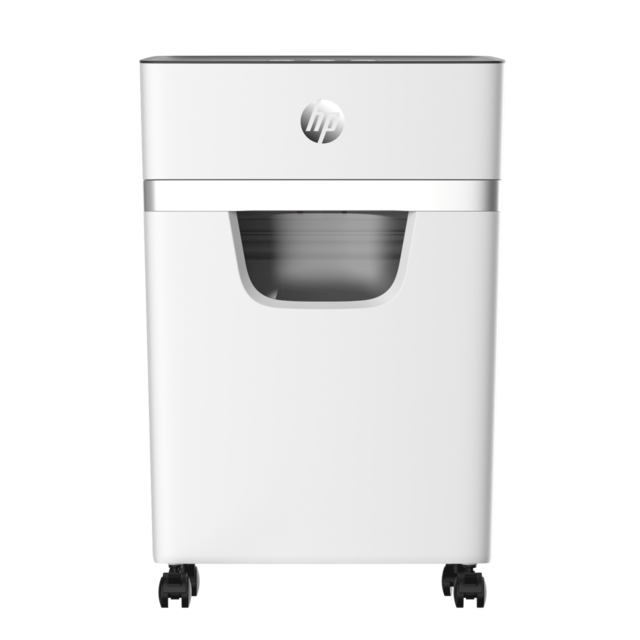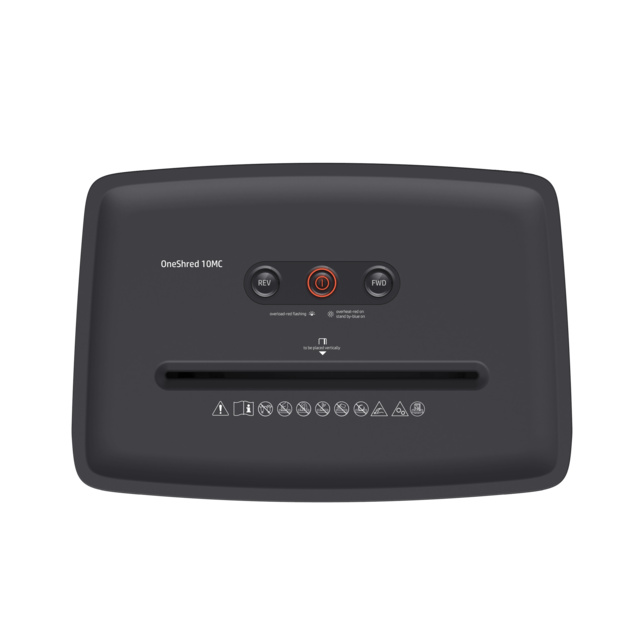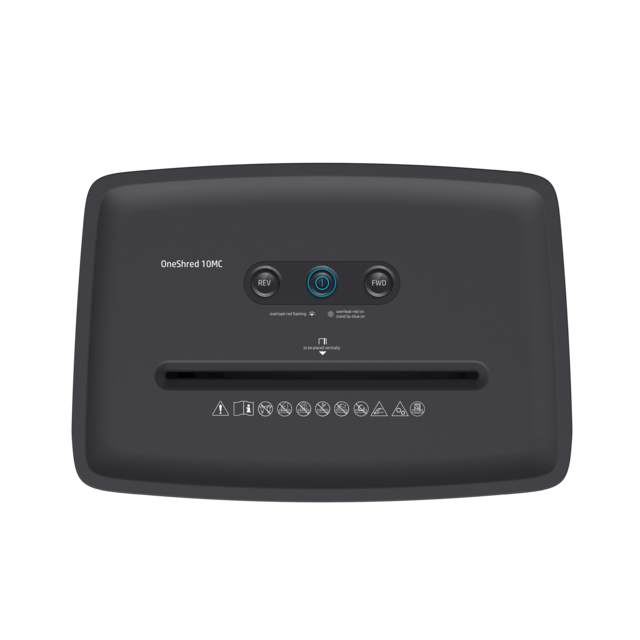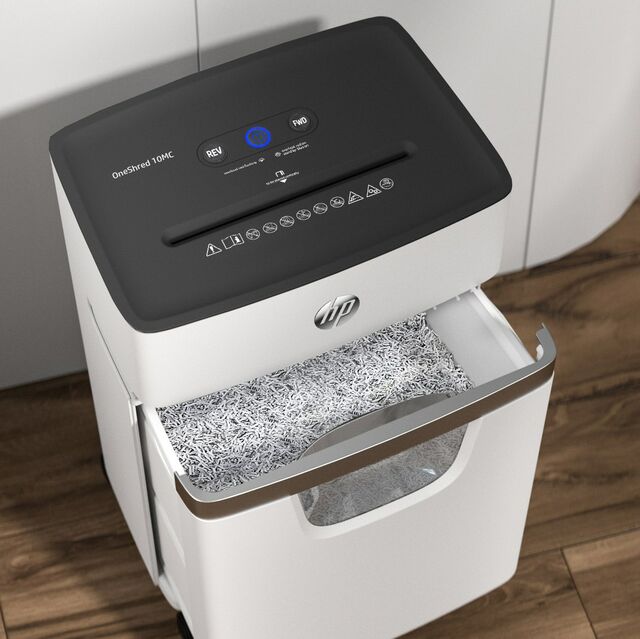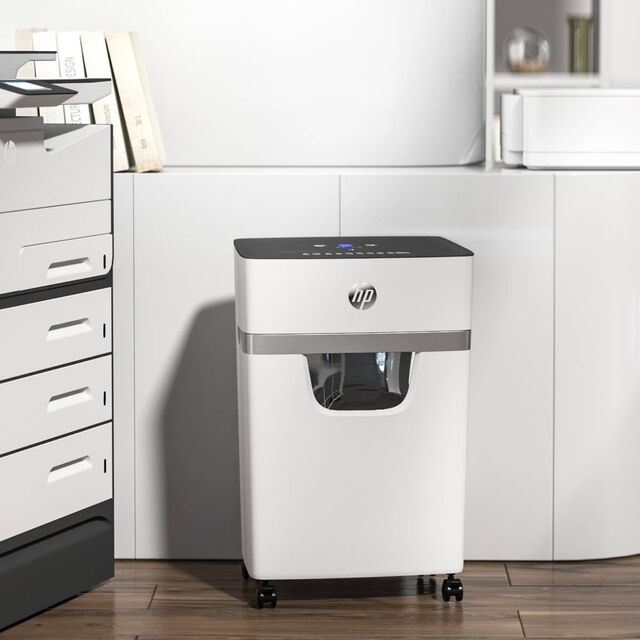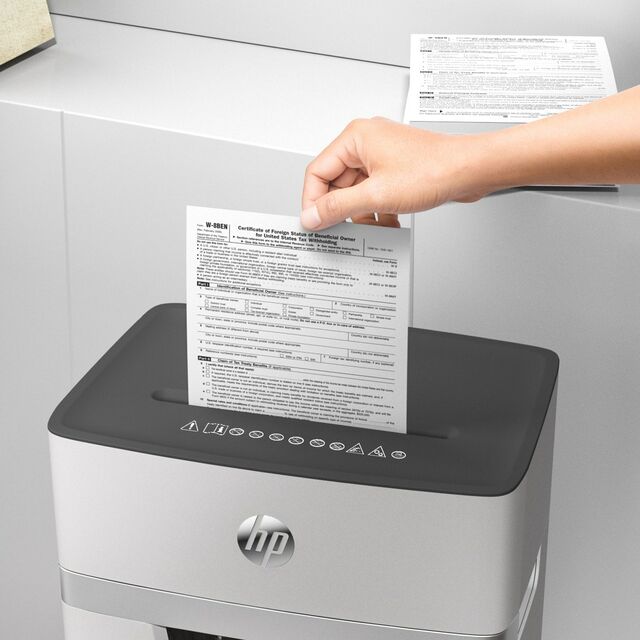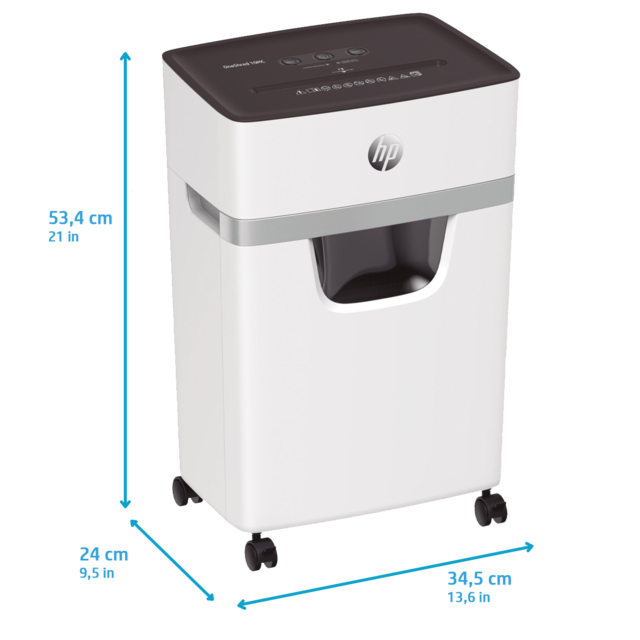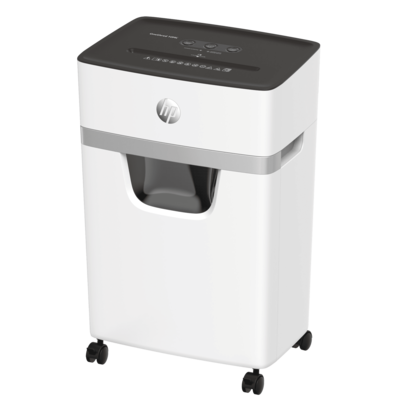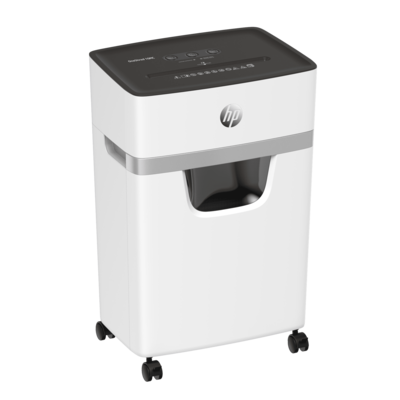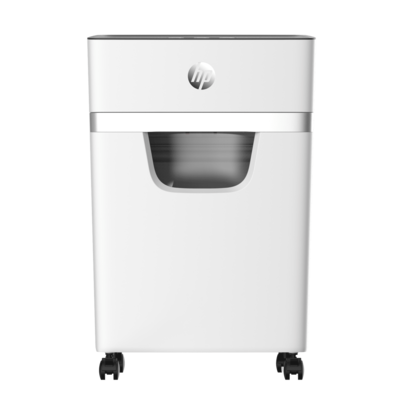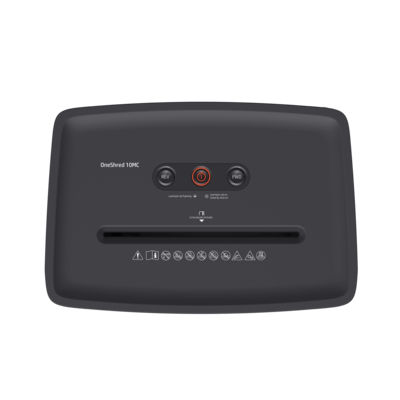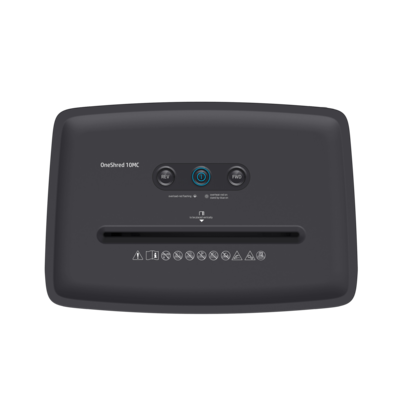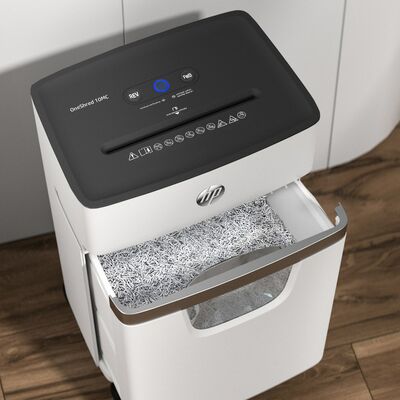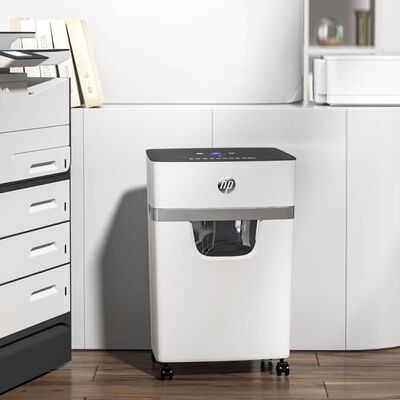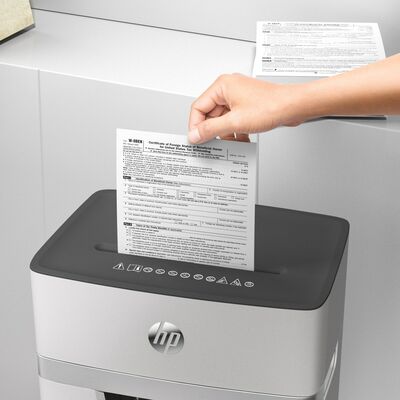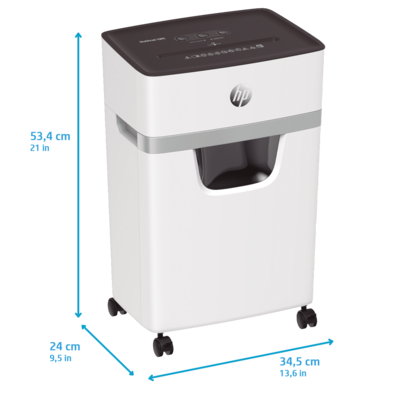 HP OneShred 10MC
The reliable HP OneShred 10MC shreds up to 10 A4 sheets at a time to 2 mm x 15 mm clippings in micro-cut mode and has the high security level P-5. This modern document shredder thus fulfils all requirements for the data protection-compliant destruction of personal data, such as patient files and process documents, and is therefore also suitable for use in doctors' surgeries or law firms. With an operating noise level of 65 decibels, the white paper shredder operates relatively quietly and, in addition to your documents and credit cards, also destroys paper clips and staples to dispense with their tedious removal before shredding.

Available in stores now.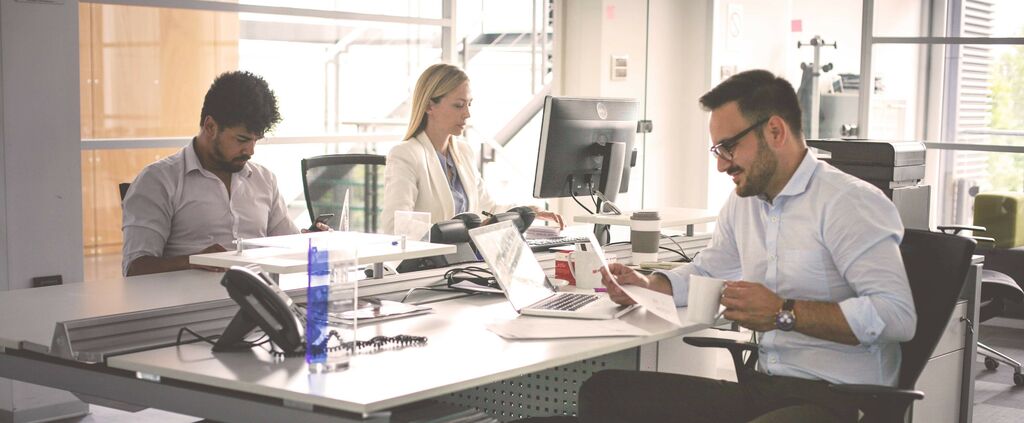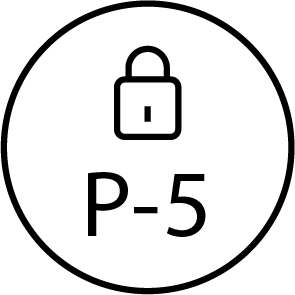 Security level P-5
Meets the requirements of the DSGVO for the destruction of personal data.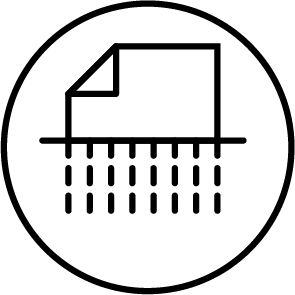 Micro cut
Documents are micro-cut into 2 mm x 15 mm clippings.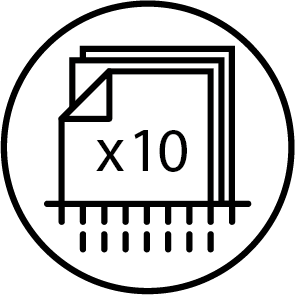 Cutting capacity
Maximum 10 DIN A4 sheets (80 g / m²) possible at the same time.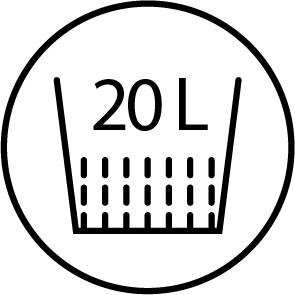 Collection container
Extractable with viewing window and comprises a filling volume of 20 litres.
In addition to ease of use, the HP OneShred 10MC features an automatic start-stop function, an overheat and overload indicator, and an automatic reverse function in case you accidentally feed more than 10 sheets at a time.

If the practical helper has been in continuous use for 10 minutes, you should allow a cool down period so that it does not overheat. The HP OneShred 10MC is equipped with four castors so that it is readily mobile and can be used wherever it is needed.
The viewing window on the waste bin, which has a capacity of 20 litres, means you can always see when the box needs emptying. Since it can be easily pulled out, emptying is quick and easy.

In addition to the clippings collection bin, instruction manual and power cord, the HP OneShred 10MC also comes with a HP Shredder Oil Sheet for initial cleaning of the cutting unit.
HP OneShred 10MC
Cutting capacity: 10 sheets DIN A4 (80 g / m²)
Type of cut: Micro cut / Micro cut
Particle size: 2 mm x 15 mm
Cutting speed: 1.6 metres per minute
Material to be cut: paper, credit cards, paper clips and staples
Security level: P-5 / DIN 66399
Application area: small office environment / doctors / law firms
Operating time: 10 minutes
Cooling time: 50 minutes
Waste container: 20 litres pull-out with viewing window
Feed width: 220 mm
Operating noise: 65 dB
Castors: 4, 2 of them lockable
Colour: white
Overheat indicator: yes
Overload indicator: yes
Anti-paper jam technology: through automatic return function
Full and open bin indicator: no
Voltage: 220 - 240 VAC
Frequency: 50 / 60 Hz
Power: 350 W / 1.8 A
Motor type: DC
Item number: 2804
EAN: 4030152028047
Device dimensions: 354 mm x 240 mm x 534 mm (width x depth x height)
Device weight: 9.4 kg
This might also interest you
Care products for your HP OneShred