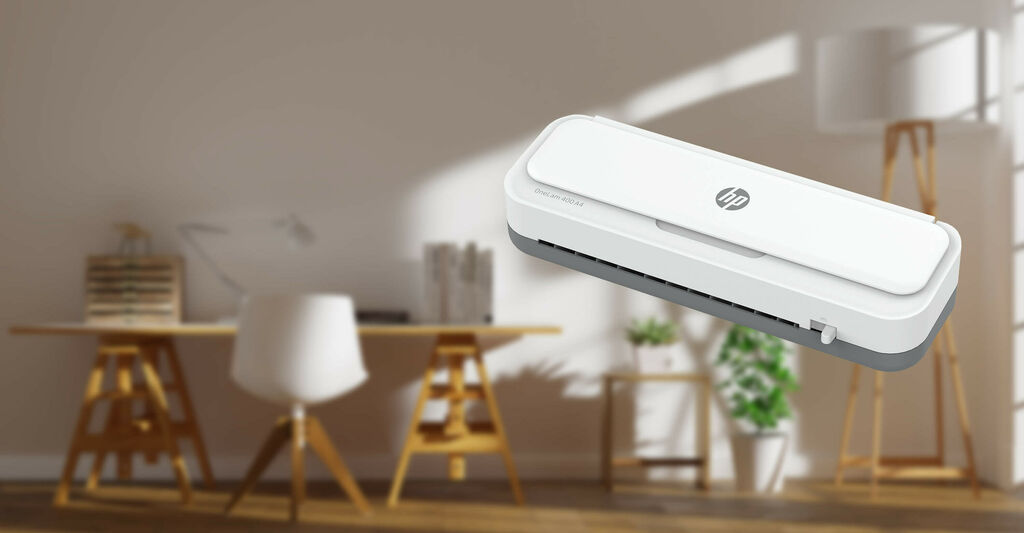 HP OneLam
Compact laminators for your desk.
The HP OneLam
Compact laminators for your desk - effortless and reliable laminating.
The compact laminators from the HP OneLam series are designed for laminating hobby-work as well as for private household or office use and fit neatly on every desk. These modern laminators in white design are suitable for both hot and cold lamination and impress with an intuitive operation. A function button is used to easily set the appropriate temperature based on the film thickness (maximum 125 microns) and the device is ready for use in 2-4 minutes.
The reliable and practical backloaders laminate any documents ranging from business cards up to DIN A3 format at a speed of 400 mm per minute.
The HP OneLam devices come with a cutting ruler, a corner scraper and a 15-piece starter set consisting of three A4, four A5, four A6 and four business card sheets.
The OneLam Combo A3 even has an integrated cutter.
Have you accidentally inserted the film at an angle into the laminator and a film jam has occurred? No problem, all devices have a lever to unlock the roller. After unlocking, the laminating foil is released and can be carefully removed on the input side. If you have forgotten to switch off the laminator, it automatically switches to standby mode after 30 minutes and the heating process is stopped.
If you are looking for a professional and particularly powerful laminator, convince yourself of the HP Pro Laminators.
Why an HP OneLam?
Perfect laminating results up to DIN A3 format
Laminating speed of 400 mm per minute
Intuitive operation via a function button
Modern white design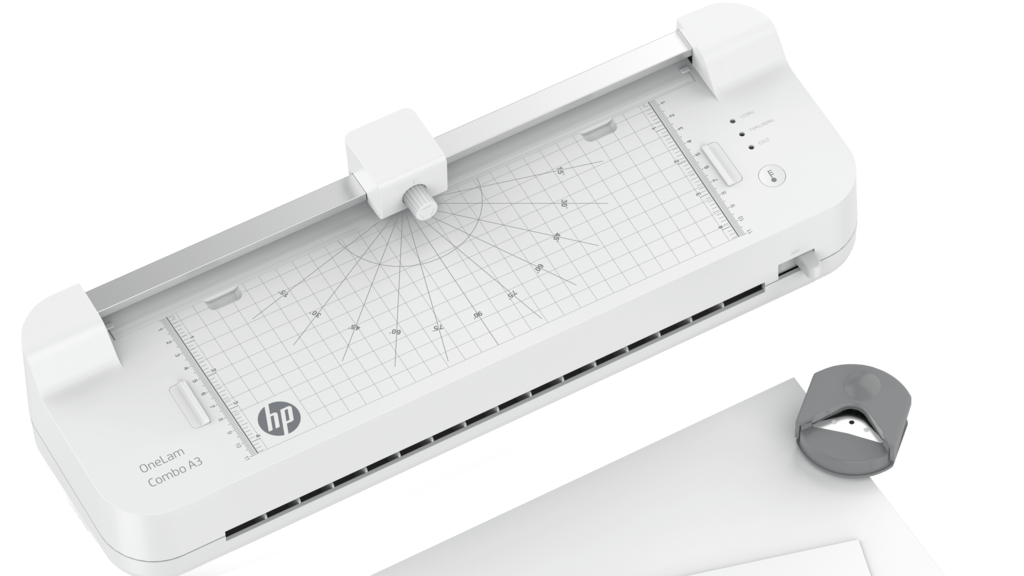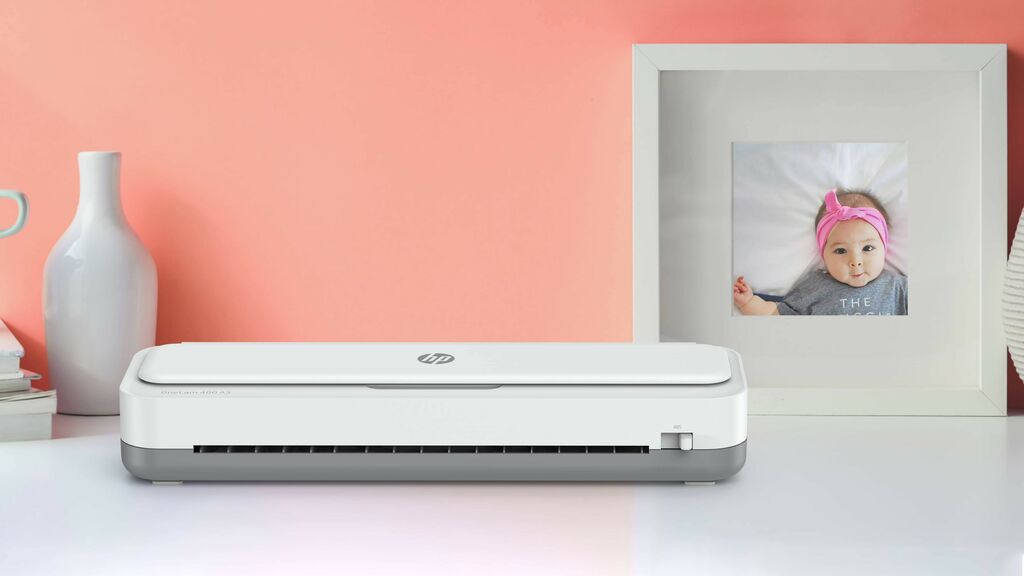 Applications of the HP OneLam
Sealing important documents, photos or children's drawings is becoming increasingly popular, particularly in the hobby sector. On the on hand, laminated documents, such as timetables, can be written on with a suitable foil pen and simply wiped off again when changes are made. On the other hand, the documents are protected from moisture, dirt and colour changes. Do you want to protect your recipes from grease splashes, your hiking map from moisture or your children's painted picture from wear and tear? Laminators can be used in many ways and help you preserve what is precious to you.
The right laminator
First and foremost, the format of the documents you want to laminate will be decisive for you. Of course, both the A4 and A3 devices can laminate smaller and non-formatted materials. If you need a device with an integrated cutter, the HP OneLam Combo A3 is the optimal choice for you.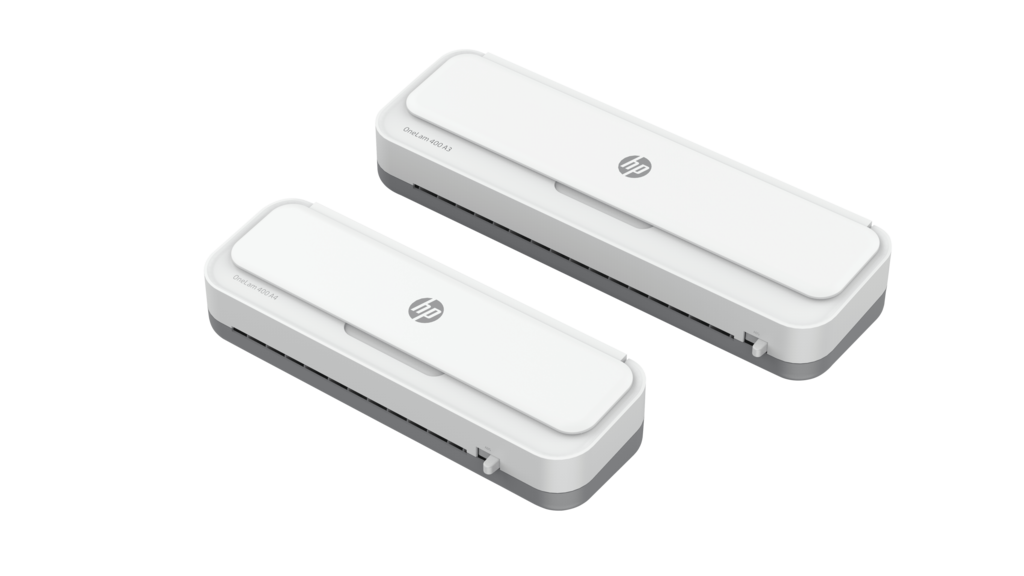 Your advantages at a glance
The HP OneLam delivers what it promises: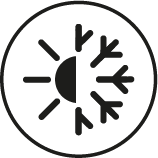 Procedure
Suitable for hot as well as cold lamination.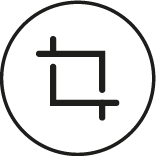 Accessories
Including foil set, corner scraper and cutting ruler.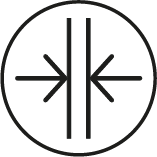 Film thickness
Suitable for laminating films with a thickness of 80 to 125 microns.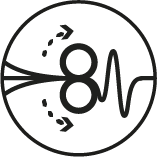 Functions
With a roller release lever to clear paper jams.
Laminators for the hobby sector
Laminators adapted to your needs